6 yrs ago
Sun, 25th Jun 2017 @ 09:00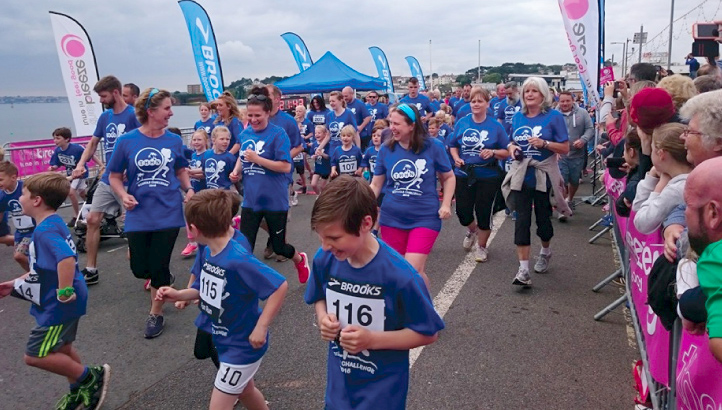 THHN Half Marathon Schools Challenge at the Torbay Half Marathon 2017
Sunday 25th June 2017 – 9am – Paignton Green
OVERVIEW
The Half Marathon Schools' Challenge is for local primary school children aged 4 – 11 years old. Pupils will cover a total of 12 miles prior to race day at school, we suggest 1 mile a week, and then along with their teachers/supervising adults complete the final mile on the morning of the Torbay Half Marathon after the main runners have headed off to Torquay, they will run in front of hundreds of spectators around Paignton Green on part of the Torbay Half Marathon course. This is a great way for a child to participate in the excitement of the Half Marathon and enjoy the atmosphere of the day, and will bring much excitement as they cross the finish line, having completed 13 miles in total. If the children would like to raise sponsorship for THHN while taking part that would be fantastic.
Each Child Receives
Race Number
Race t-shirt
Medal
Traffic free roads
Each Supervising Adult Receives
Each School Receives
A map of the full Torbay Half Marathon route so each class can mark of each Mile as they run it.
One visit from Team THHN to give a talk about the charity and Team THHN will run one mile with each school.
ENTRY FEE
£10 per child

Entry is free for the supervising teachers/staff/adult running as a part of the school team. Please see below for number of supervising adults required.
HOW TO ENTER
Entries are managed through the child's school. For further information on participating schools or for schools to be sent more information please email Rebecca@thhn.co.uk
What is the date & time of the School's Challenge?
+
How does a school enter?
+
How old do you have to be to enter?
+
What supervision is required?
+
What is the closing date for school entries?
+
Get in touch with us
Upcoming events