Posted
Saturday, 26th November, 2011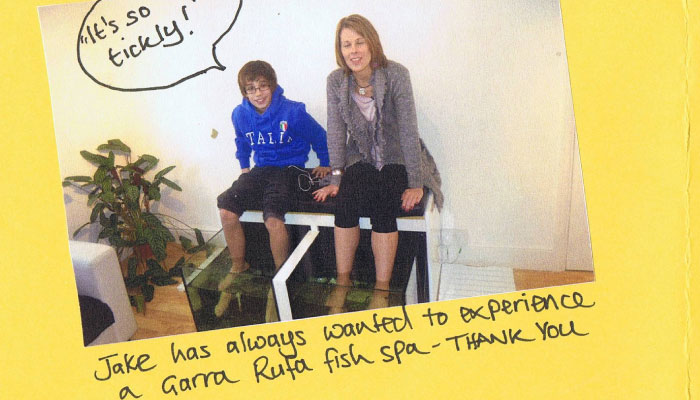 I just wanted to write to say a sincere thank you for everything you did and organised for us during our stay at Pilgrims Rest last week.
We were blown away by the generosity of all the local businesses that kindly contributed to making this a very special break for us and particularly Jake. I would appreciate it if you could please pass on our thanks to everyone, especially those who kindly donated food boxes – YUMMY! These were a real suprise and very unexpected. Also the businesses whom we were able to use the family pass. We simply did not have enough time to fit everything on offer in, but Jake chose the things he most wanted to do!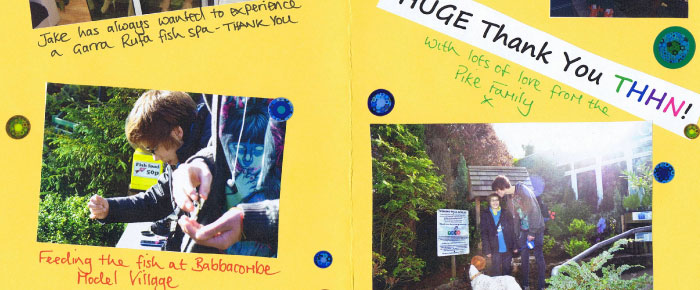 It is just so lovely to see the smile back on his face, this has been lost for some time now after the traumatic year he has had. Spending time together as a family without the distractions and worry of hospital was really important and has done us the world of good!
I have also enclosed a few photos of Jake which I thought you would like to see of him having a wonderful time in Torquay, a place that we have now fallen in love with and are looking forward to visiting again, hopefully next year.
Martin from Pilgrims Rest spoke very highly of THHN and all that you do and I can certainly echo his words.
Thank you once again for a holiday that has created some very special memories. THHN is the best!!
Comments