Posted
Thursday, 22nd December, 2011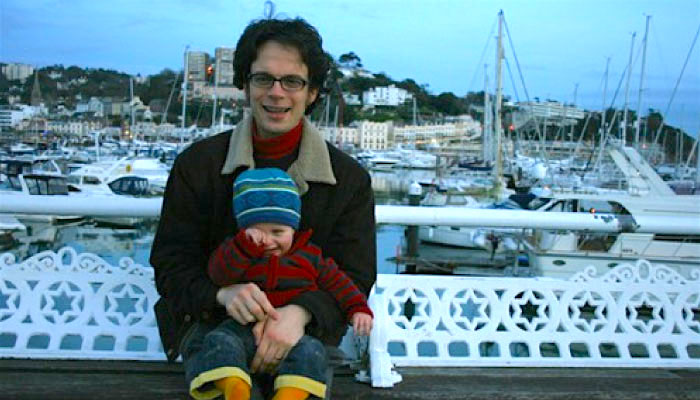 We have just come home from a wonderful week away in Torquay, and would like to thank you and all involved with THHN for making our holiday so special.
Our son Alexander is just coming up to a year old, but was diagnosed with retinoblastoma (cancer of the eye) at 6 months. Since then we have been in and out of hospital while he had chemotherapy and succumbed to various infections, and he has had real problems with eating due to the side-effects of his treatment. On top of that the tumours have left him with a severe visual impairment in both eyes, which we have been trying to get to grips with — so all in all it's been a very intensive six months. Coming away thanks to THHN was the first real opportunity we had to spend time together as a family, and has allowed us a breather to think about the next stages of his treatment, which unfortunately will probably continue for several years.
We live in East Anglia, so quite a way from the English Riviera, but the trip down was an adventure in itself!
When we arrived we found an amazing welcome from John and Angela at Vomero Holiday Apartments. They had thoughtfully provided everything we could possibly need — like a highchair, baby bath, and even a box of toys — so we didn't need to worry about packing everything. We had a fantastic room with a view of the garden and the sea beyond, and it was lovely waking up each morning to such a spectacular view. Alexander loved the big apartment, and his crawling has improved no end, thanks to the large carpet to practise on!
The table in our apartment was groaning under the weight of all the goodies provided by THHN supporters: a hamper from John and Angela, a massive box of fruit and vegetables from Total Produce Cornwall (well over 5 a day!), some stunning cupcakes from Over the Rainbow, and lots of delicious bread from Halletts. The fridge contained an amazing selection of meat and eggs from A.W. Luscombe. It was so lovely not to have to worry about food, and we ate like kings all week, enjoying hearty meals like chicken casserole and toad in the hole thanks to the generosity of local THHN businesses.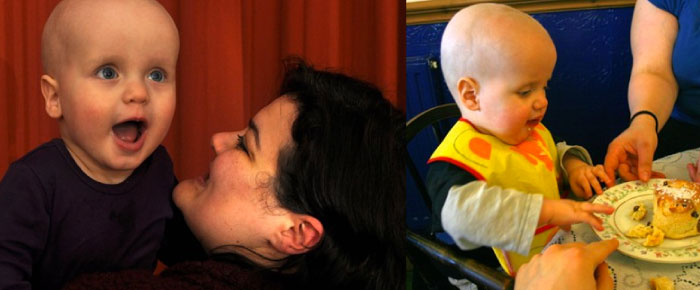 Although there were lots of tempting activities on offer through THHN, we spent a lot of time just unwinding and playing with Alexander – it was great to have the opportunity to do just this. We did manage to visit Torquay Museum, where Christina (who is a keen reader of detective fiction) was pleased to discover Britain's only Agatha Christie gallery! Also Dougie, the THHN photographer, kindly came to see us and take some photos of us –we've rather missed out on photographs while Alexander's been in hospital, so it will be great to have some 'normal' family snaps. Apart from that, we devoted ourselves to sampling the various eating options in Babbacombe. Angels Tea Rooms served up a magnificent cream tea, and Alexander enjoyed having his own scone on a very grown-up china plate. The staff at the Cliff Railway Cafe made us feel incredibly welcome, and we enjoyed a relaxed lunch while looking out over the bay. We rounded off our holiday splendidly with fish and chips from Hanbury's, we enjoyed trying the more unusual options!
We all feel refreshed from our break and are hugely grateful to everyone who has made our holiday possible. We are particularly grateful to John and Angela that it was possible to rearrange our holiday dates, as unfortunately Alexander was hospitalised with an infection a couple of days before our original date. We were struck by how extensive the THHN scheme was and the kindness of local businesses. Long may it continue!
Best wishes and thanks
Tom, Christina and Alexander
Comments