Posted
Thursday, 1st August, 2013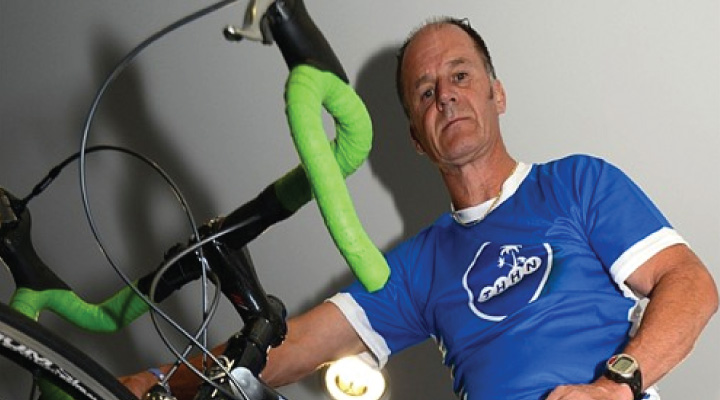 Mark Mallen, local Spinning instructor, is planning to ride for an amazing 12 hours on Thursday 5 September to raise funds for local charity, the Torbay Holiday Helpers Network (THHN). For those of you wondering what exactly Spinning is, no it doesn't have anything to do with wool. Spinning classes are an increasingly popular way to get fit and involve people on rows of exercise bikes lined up in health clubs and fitness centres where everyone then rides together through various phases each class.
Mark took up competitive cycling over 40 years ago, when he was just 13, and is always looking for innovative challenges. If he can then turn them into ways to raise money for some great causes he's even happier. So, his latest idea is to ride for 12 hours on his road bike astride a set of training rollers, with a five minute break each hour, making the whole event an amazing 13 hours. The plan is to set up outside the Winners 2000 gym in Torquay with his bike on rollers and 2 spinning bikes along side. Both spinning bikes are for various other people who will hopefully come along and keep him company for a bit as he pedals. Using bikes on rollers makes the whole challenge significantly more tricky. It really is like cycling normally and needs constant attention and balance or there will be a nasty fall.
Mark says of his challenge "I'm really looking forward to it. I'm hoping lots of people from my various Spinning classes will come along, support me and hopefully ride with me for a bit. I suspect there will be quite a lot of shouting at me, something I usually do to them, so they may see it as their opportunity to get their own back. As long as I can stay on and keep my concentration I should be fine."
In terms of fundraising, there will be collection buckets around as the event is underway but there's also a competition for people to make guesses about how Mark's day will go. How many miles will he cover? How many calories will he burn? What's the fastest he'll go during the day? People will be asked to donate £2 per guess or £5 if they want a go at all three.
Luke Tillen, founder and Chairman of the THHN says "Mark's idea is a great one. It never ceases to amaze me the novel events people create to help raise money for us, and quite what they're prepared to put themselves through as well! We're so grateful, and I'm looking forward to seeing how he gets on."
If you'd like to join in, support Mark or see how he's doing, pop along to the gym, say hello on the day and have a guess at the answers to his questions.
Photography courtesy of Dougie Worthington – Peacock Dreams Photography – official photgrapher to THHN.
Comments