Posted
Monday, 19th May, 2014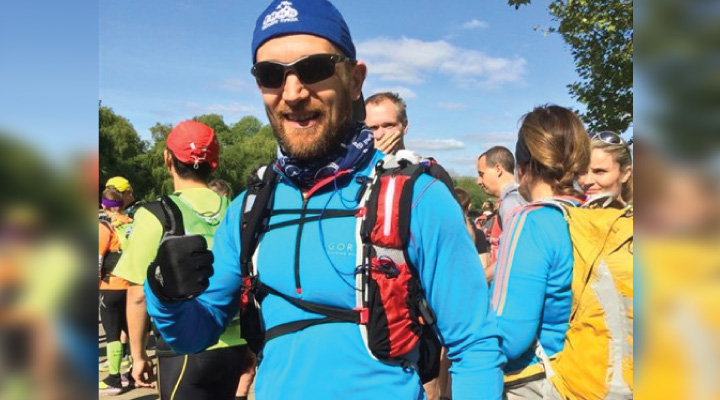 After being bit by the ultra bug in 2012 when I committed to running the Keswick to Barrow Challenge; a 40 mile course in the Lakes, for a friends charity, I never in a million years envisaged myself standing on the start line of a 100 mile ultra marathon just 2 years later!
Last year I completed "The Wall" a 69 mile ultra, from Carlisle to Newcastle, to raise money for my charity THHN, I have a clear and distinct memory of crossing the finish line and looking at my mother and saying "Never again!". Yet as days and weeks passed the sense of achievement grew and the wonderful images in my mind of the 69 mile journey along Hadrian's Wall slowly became more flowery and rose tinted as the memories of gruelling pain quickly fizzled out. So the ambition to run 100 miles and raise as much money as possible for THHN suddenly and very quickly became something I had to do, when I put my mind to something I have to see it through.
So after a brief conversation with a friend about my 100 mile ambition the said friend went off and did some googling, later that afternoon I received a link to the Centurion TP100 registration page, with the suggestion that this was the perfect race for my first 100 as it was flat. I entered my details, paid and got instant butterflies in my stomach followed by hot sweats……..what had I done?!!
After some googling of my own I found a beginners 100 mile race training plan, and quickly realised just exactly how much of a struggle just making it to the start line was going to be. The logistics of me running 80 mile plus a week was going to be incredibly tough! Being a father to 4 boys under 7 years old, owning and running a 27 bedroom hotel and running a national charity (not to mention fittiing in walking poor Dudley dog!) in itself is exhausting, let alone trying to fit all these miles in. But I love a challenge and was undeterred!
I remember the first few weeks of my stepped up training was incredibly tough, and there was a definite transitional period where my body was in protest at what I was forcing it to do. I had never trained using the sandwich run method; back to back runs, and I believed this to be why I struggled so much in the last 9 miles of "THe Wall" last year, my legs were just not used to the extreme fatigue. So sandwich runs it was! The vast majority of my training runs would start at 8pm, after I had finished dinner service in the restaurant of my hotel, or finished cooking in the hotel kitchen and got the 4 boys tucked up in bed. This meant getting back in the early hours of the morning on many days, followed by interrupted sleep of children waking up throughout the remainder of the night and then a wake up call; by the kids again, anywhere from 4.30am to 6.30am on a really good day! This was hard going, but thankfully my incredibly supportive wife answered 90% of the children's night time calls.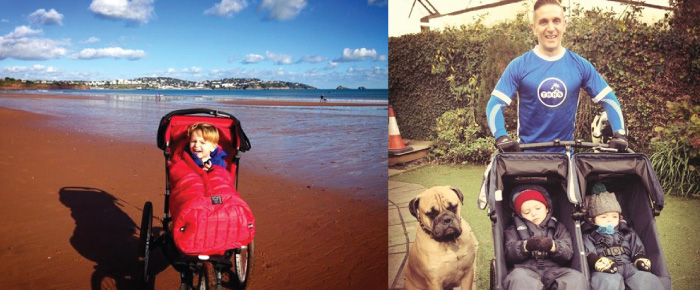 On a few occasions I set off for long runs at 3am in the morning, after getting back around 11pm – 12am from a run the night before. This was if I was not going to be able to fit a run in that evening, this again was tough but proved to be fantastic training, getting used to not only running with tired legs but with a tired head as well. If a rare opportunity presented itself to grab a daytime run I always grabbed it with both hands! One particular day I will always remember, I finished cooking in the kitchen at 10am, got changed into my running gear, grabbed one of my boys and put them in my running pram and ran 24 miles with the boys doing shifts in the pram (they love the running pram, so much so I purchased a double pram as well. I am the only man I know that owns two of his own prams!). As soon as I finished, it was a quick shower and straight back in the kitchen to start prep for the evening meal, then after dinner straight into the office to catch up on the days work. So you get the picture, the training alone was a real juggling act!
On the whole my training went to plan and I was very lucky to have lots of different people from the charity's runners forum joining me for my night time runs. I had a slight calf niggle around the half way mark of training and some issues with my right quad in the final week before my taper began, so my taper commenced a week early.
One of my major breakthroughs with my training this time around, as well as sandwiching runs for 3 consecutive days, was my diet whilst running, and the progressive elimination of sugar! I am always anal about my diet when training and really wanted to knock gels out of my training, and this is something that I achieved with great success. In my previous years I had popped a gel down my throat every 40-50 minutes of running; not only was this a copious waste of money and not good for me, it almost created an addiction and a slight belief that I could not run more than 6 miles without a gel in my pocket. I won't bore you even more with my trails and errors with my food, but I found that for the early part of running I nibbled on either Brazil nuts, coconut or babybels (cheese); basically fats. This fuelled me perfectly, I did not get the instant fix that sugar gives, but a much more balanced energy release without the big crash. As my training went on I could go for longer time and distance fuelling as I ran on fats alone, but this was not enough, so I then move on to slow burning carbs and developed a high calorie muffin using the following ingredients: Oats, Brazil nuts, flaxseed oil, grated cheese, natural peanut butter, whey protein powder, sultanas, honey and milk. I mixed all the ingredients together and baked in a muffin tray and BOOM these are awesome, rocket fuel……for me anyway, I am a strong believer in one mans meat is another mans poison. Everyone's metabolism and metabolic type is different and different people will work better with different macronutrient splits and ratios. I actually make different versions of these muffins, I put very little sultana and honey in some and higher fat and use these mid long run. Others I drop a lot of the fats and some oats and add more sultana and honey and use these later in the long run for a natural sugar hit. I have to be honest, these are not easy to eat, however I only nibble on these, to avoid bloating, I chop them into quarters and take them one quarter at a time, I roughly chew them and wash down with a big swig of water. Job done, they fuel me fantastically, I just steadily nibble all the way through my runs, roughly one every 20-40 minutes, depending on how I am feeling. Ultimately my goal is to fuel on fats alone and become totally fat adapted and ditch all grains and starchy carbs, something I hope to achieve by the end of the year.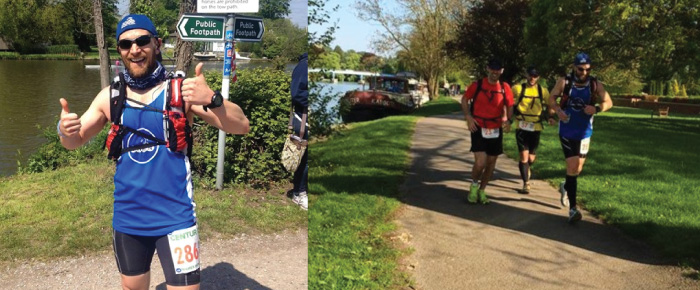 The week before the race I was feeling really good, but my family wasn't, all of my boys had developed stinking colds! Luckily I managed to evade the cold coodies; I developed mild OCD and was washing my hands at any given point, I even bottle fed my youngest (6 months old) wearing my snood over my face! (not a proud parent moment I must confess!) Then I woke on Thursday morning with a really stiff neck, accompanied by pain running down my spine and branching off with referral in my left scapula! I have no idea what caused this and I was panic stricken! Luckily that afternoon I was scheduled for a final deep tissue massage before the big day, after a painful 1.5hr massage and acupuncture session I was feeling rather sore and battered. Dr. Sarah Taylor of the SMART Practice advised that she felt I needed a chiropractic treatment as well. So I then sent a pleading email to my chiropractor to fit me in before I left for London at 10am on Friday, luckily he fitted me in at 8am on Friday, after several cracks and some taping he let me go. I was now feeling even more battered and nervous, I just could not see how I could run with this pain unless a small miracle ocurred!
After an emotional farewell to my wife and boys I travelled to London laying on a mattress in the back of the family Volvo XC90, in the hope of speeding up my recovery. I was very kindly driven by my parents who were doubling as the best race support crew in the world! We arrived at our hotel in Brentford, had dinner and I went to bed still in pain and very uncertain of what the following day held. I slept very well; thanks to a double dose of valerian root and my pain had eased somewhat, however I was still not confident of pulling on my back pack fully loaded with water and gear. I had breakfast and was mentally not happy or confident, I was envisaging a DNF after 15-20 miles. I got dropped off at the starting venue; Richmond Old Town Hall and had my kit bag checked by the race officials and got my token to exchange for my race number. I went outside and congregated with the other runners and chatted about the big day. The friendliness of the race officials and competitors had really helped me to relax. I loaded up my pockets with babybels and coconut chunks, put on my race vest (back pack) and it surprisingly felt fine, I was feeling good and was hoping the small miracle had been performed! The weather was perfect and I was ready for battle!
4.jpg
At 9.30am the runners all squeezed inside the town hall for a race briefing, the race director asked people to raise their hands if it was their first 100 mile race, and I was surprised and strangely reassured by the number of hands that went up along with mine, I was not alone in this boat that I had jumped into! The race started on time at 10am and my journey to Oxford had finally begun as I waved goodbye to my parents and my heart was pounding with pride because I was wearing my THHN vest and cap and adrenaline was pumping knowing that 100 miles lay ahead of me, the time had come to step up to the plate.
As usual there was a very fast start and I managed to keep my pace down, however not as slow as I planned, my plan was for 12 minute miles and I was hitting between 10.5 – 11 minute miles. Everyone went flying past me; after the initial pile up at a kissing gate, where runners were queuing up to get through, I walked around the queue and climbed over the fence. The runners flying past me did not worry me in the slightest, I had a game plan and I was sticking to it. After about 2 miles I quickly warmed up and stopped to take off my Gore long sleeved top, packed it into my pack and carried on at my slower pace than the other runners. The track was quite muddy in places and shaded by woodland on the first stretch and it was here where I had my first chat with another runner; a friendly chap from Germany, he carried on at a faster pace. On this initial stretch I was introduced to some horrible inhabitants of the Thames path; random swarms of midges and promptly introduced myself by swallowing a good lung full! Disgusting! After washing them down with some water I pulled up my trusty snood over my face whenever I saw a swarm coming up in the distance, to avoid anymore unplanned protein hits!
I was now comfortable in my pace, but noticing that since I took my long sleeved top off; leaving me with just my THHN vest, my pack was rubbing my the tops of my shoulders. I called my parents to see if they could come and meet me with my Glide stick, and sure enough the number 1 support crew were there at my beckon call within 10 minutes! A very quick stop to apply and I was off and realised that there were no more runners behind me, for some reason this panicked me and I suddenly developed a fear of getting lost. I had not really been paying attention to the course markers, just been sheep like and following the other runners; as you tend to do (well I do). I came to the first bridge and crossed it very quickly desperately looking for a marker to show me where I should turn off, which I found with ease and I soon caught up with another runner called Per; from Sweden. We chatted and kept a nice steady pace and then yo-yoed with each other for the next few miles. What I call yo-yoing is something that I love about ultra running, through different stages of races you get to know your fellow competitors as you pass each other, sometimes chatting and running together, other times a nod or friendly thumbs up and a smile as you pass, knowing you will probably see them again a few miles down the road.
My Suunto was telling me that I would soon be coming up for Hampton Court Palace, this was to be a very special point of the race for me; why you may ask, it is only 7 miles into a 100 mile race? Three families who have benefitted from my charity THHN's services had previously contacted me, to say that they would like to set up a cheering station for me at Hampton Court Palace, and asked me to send them some THHN balloons, so they could really make their presence felt. All three families are equally as incredible and are huge inspirations to me and I could not wait to see them! As the palace came into view I could not help but be in awe of its beauty, such grandeur and steeped in history, it was looking at its finest thanks to the amazing sunshine. I could soon hear a loud horn blowing and the cheers of the Nimmo, Roa and Milne families up ahead in the distance, my heart pounded with emotion and pride, I could see all the blue THHN balloons bouncing in the breeze and young Nico Roa in a THHN running vest. I was so pleased and grateful to see them, they had all travelled from different parts of London and surrounding areas. I raced up to young Wills and gave him a high five, hugged and kissed the mums, gave them my thanks and carried on my way feeling absolutely fantastic, they were the real reason I was running! Seeing them would help carry me all the way to Oxford.
I crossed the bridge at Hampton Court and was back on the trail feeling on cloud nine, the weather was perfect, my scapula pain had vanished as if by magic, I was buzzing from seeing my cheering station and I was feeling great! I ran a few hundred yards and then sat in their camp seats on the grass embankment, soaking up the sun was Mum and Dad, I waved and told them I was feeling good and carried on. I was really worried about my parents, they were determined to stay on support for the whole race; against my wishes, I wanted them to find a hotel and sleep through the night. But being the amazing people they are they committed to see the journey through with me and offer support second to none!
The next 4 miles flew by, I put my earphones in and enjoyed my music and took in all of the incredible scenery, feeling blessed and incredibly lucky to be making this journey. Before I knew it I had reached the first CP at Walton on Thames; 11 miles in, feeling good and having enough water I did not stop and carried on my way. I celebrated by treating myself to a few fresh coconut chunks. A couple of miles down the river and I see a shady guy looking at me smiling and congratulating me, I suddenly realise it is my good friend Gary Nock, who I hardly ever see; due to him living in London and both leading busy lives. I gave him a great big sweaty hug, posed for a quick photo and moved on feeling yet again amazing!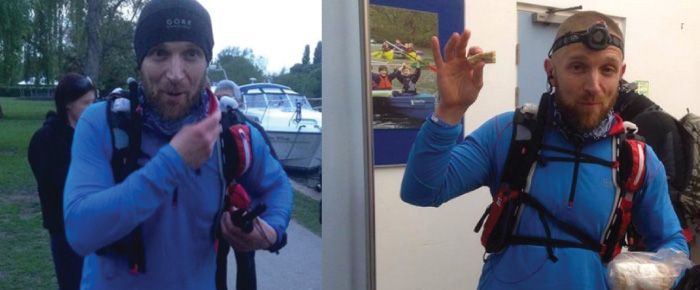 Just after seeing Gary I took a call from my wife and told her how much I was enjoying the day and to give my love to the boys, again another great morale booster! The next 8 miles to the CP at Wraysbury were fantastic, again enjoying my music, the scenery, the weather all the while nibbling on fresh coconut and babybels. This was my first CP that I stopped at, only to refill my water bladder and take words of encouragement from the fantastic Centurion volunteers. I saw my Mum and Dad just after this aid station and this is where I made an error, feeling high and somewhat invincible I got caught up in the moment and was not thinking ahead. My body was just about ready to receive some carbohydrates; in the form of my muffin quarters, and I should have grabbed them from Mum and Dad, but I just sailed on by.
I carried on feeling good, not realising my error until it was going to be too late! I started to feel the back underside of my arm getting inflamed from my bare skin rubbing on my race vest, Mum and Dad had the Glide stick. So I called them and asked if they could meet me and help out, they were unsure where they could meet me and said they would look at the map and call me back. The next aid station was at the 30.5 mile mark at Dorney and there was no support crew access allowed here, Mum called back saying that they would meet me at Windsor; about 3-4 miles from the next CP. I was soon realising that the fats alone were not enough for me anymore, I could feel my blood sugar levels slowly dropping and my body was ready for some carbs, but I was not too concerned as I knew that I could grab my muffins from Mum and Dad at Windsor in a mile or two and hopefully nip any crash in the bud. There then followed a couple of slightly confusing and angst phone calls from Mum asking me to describe where I was, I told her that the fantastic Windsor Castle was in sight and was behind me and that I was running through a field. Mum was concerned that they had missed me and was asking if I had crossed a very busy bridge bustling full of people, so busy it would be impossible to run over and there was a busker playing music. When I said no I had not been through any busy area I could hear the relief in her voice and she told me she would see me in a few minutes. By this time my blood sugar levels were dropping pretty fast and I was becoming somewhat irritable and my chaffing arm was beginning to really bother me, so much so that I was running with my left arm half up. But I was not panicking as I knew that Mum and Dad were close by, I just had to locate them. I reached the bridge and yes Mum was right, it was heaving with bodies and it was impossible to run over, I got across the bridge, followed the route down a side street where I was half expecting to see Mum and Dad, but they did not appear, so I kept going along the route and into another field with picnicking families scattered along the riverside, I could still not get sight of Mum and Dad. I carried on through the field into the next and decided to call them, Mum said they were on the bridge looking for me!! We had missed each other!! I carried on to the CP at Dorney and stopped in need of food, as I have mentioned before I am really anal with my diet and knew that whatever I took was not going to be perfect for me. I did not want to take a gel or any sugar as I knew once I started on sugar I would have to continue, and the thought of consuming sugar for another 70 miles was not appealing. I opted for the sausage rolls, and somewhat foolishly scoffed about 5 in one go; I was really hungry by this point and had totally run out of my cheese and coconut. As I was refilling my bladder I looked up and recognised Giorgios Economopoulos and his friend Rob Delicata, who I met whilst running "The Wall" last year; we ran a couple of sections together and had good chat and banter. I said hello and asked them to look at my arm, Giorgios pointed out that it was my left front pocket causing the problem, so I quickly emptied it into another pocket. Rob had a little pot of Vaseline and very kindly offered me a dip to rub on my inflamed arm, between the pair of them they fixed me up, thanks lads! I then was greeted by a 6ft plus chicken aka Centurion volunteer Rich Cranswick, who said he knew about THHN and recognised my logo on my vest and had heard great things of our work! This again gave me a great lift, so thank you big Rich! I pulled on my race vest, which was now starting to feel heavier every time I refilled it and set off again.
Somewhat predictably I started to feel sick from the sausage rolls, however I was not feeling weak, which was a big plus, I knew that the nausea would pass as my body digested the alien food and I would soon be back on track and nailing my muffins to fuel the rest of my big run. I found Mum and Dad a few miles later, topped up my salt stick supply ( I was popping these roughly every hour), took some super greens, a multi vit, omega 3 oil and some branched chain amino acids, I would use this stack several times through the race to help my body/central nervous system cope with the impact of running such a big distance. I grabbed a carton of coconut water to drink on my way and carried on. It took me quite a while to start feeling good again, the one good thing was that my arm was no longer bothering me, since I emptied the bulbus pocket and applied the Vaseline. The next thing to bother me was my bowels, I needed to go and the next CP was at Cookham at mile 38, roughly another 3 miles from where I was. I bumped into Giorgios and Rob again and ran the last few miles with them into Cookham, where I was able to take a much needed comfort break.
Thankfully I was now feeling chipper yet again and was fuelling properly with my super muffins, I put on my long sleeved base layer as I could feel the temperature slowly starting to drop and cracked onwards to the next CP at Hurley on mile 44. On this leg of my journey I was bobbling along nicely, really enjoying myself yet again and really appreciating the incredible scenery. In a world of my own I suddenly heard a voice call out "Is that Luke TIllen?", I turn around to see a friendly and familiar face of Andy Nuttal, who I again met whilst running "The Wall" last year. We both got caught up chatting until a man outside a riverside pub pointed out that we needed to cross the last bridge, we looked up and saw runners on the other side of the river! We thanked the kind man and whistled the runner in front of us and headed back to the bridge. We ran and chatted together for a mile or so before parting company both feeling strong and positive, we continued to yo-yo all the way to the finish. Further down the line at Marlow I bumped into more people who had come to support me; Jane & Arthur Christian, seeing them gave me yet another huge lift! Jane & arthur own a rent agency down the road from my hotel and are huge supporters of THHN, they had travelled up to come and offer their support and help Mum and dad through the night; which was a big relief to me that they would not be alone! I saw Mum just around the corner, topped up on supps and grabbed another coconut water. I had a great run all the way to to Hurley at mile 44 where I was greeted by the as always fantastic Centurion CP volunteers, I refilled my bladder and quickly cracked on.
The halfway CP at Henley was very much in my focus now, I was to be met here by my two pacers Matthew Day and Stephen Lofthouse. Matthew and Stephen answered a post I made on the Torbay Athletics Club facebook forum some months ago, I was asking if anyone would support me by pacing me for the TP100. What an incredible gesture from two incredible gentlemen, I did not know Matthew before making that post and Stephen used to holiday at our hotel some 30 plus years ago with his family, but had no contact with each other since. Both stepped forward and joined the team and decided to tag team in pacing me, swapping every 5-7 miles. Knowing that they were waiting there to greet really did drive me on and I was convinced I would roll into Henley looking strong! The next few miles I gained momentum and foolishly pace, I got carried away and realised that I was flying past people (I do blame Rage Against the Machine for this, I was getting lost in my music and over excited about rolling into Henley looking like a real centurion warrior!), I looked down at my Suunto and I was hitting 9 minute miles!!! SLOW DOWN Luke!!! I reeled myself in and slowed down, somewhat too late, I had over done it, stupid boy!!! I got very frustrated with myself for letting myself get carried away, I was tired, getting cold and my spirits were dropping fast. I stopped at a bench, took my pack off and put on my Gore thermal top, hat and gloves; which felt really good, put my pack back on and called Mum and started to walk for the first time in the race. Mum told me that there was quite a welcome committee waiting for me with them, there was Arthur, Jane, Matthew, Stephen and about 5 of Matthews family. This gave me the pick up that I needed and I started to run again, all the way into Henley at mile 50 (however my Suunto was telling me 52 miles).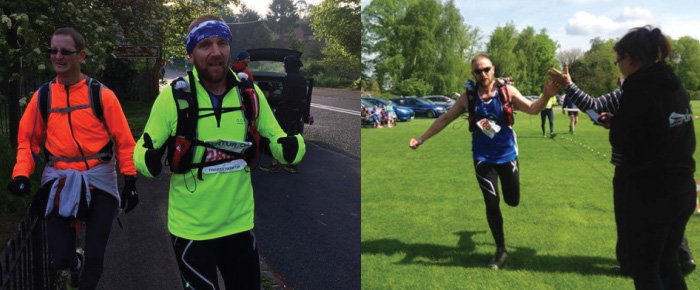 I was so pleased to arrive here, unfortunately I needed yet another comfort break as my bowels had decided they were not enjoying the day! I went to the CP accompanied by Stephen where the volunteers were simply incredible, my water bladder was taken from me; filled and returned, and I was given a nice hot cup of tea, one particular volunteer; a man made me feel just great – a huge thank you to you, sorry I don't recall your name. I grabbed some sandwich from Mum and pinched a few of Arthurs chips, took all my supplements, had a team talk with Matthew and Stephen and I was ready to set off for my first leg with Stephen.
As we set off the final light of day was just disappearing, so head torches were on and we headed off for the second half of the journey to Oxford. Having Stephen with me really did give me a second wind, he was bright as a button and chomping at the bit to get moving. For this leg of the journey we deviated away from the river and on to country roads and through a village, it took the eyes a while to adjust as we soon descended into darkness. It felt like I was running in a completely different event, having company and it was now turning into a bit of an adventure, keeping our eyes out for the glow sticks and reflective marker tape, for a surreal moment it actually felt like I was in an episode of Treasure Hunt with Anieka Rice! It was 7 miles until the next CP at Reading, where Arthur and Jane were going to meet us along with Matthew. Arthur and Jane had very kindly told Mum and Dad to take a break, so they met some friends who live in Reading for a quick bite to eat, which gave me peace of mind that they were having a little bit of respite. I remember reaching Reading feeling tired and pretty cold, the temperature was dropping and I was really pleased to see that this CP was inside a building. I climbed the stairs and yet again straight to the toilet to relieve my worsening bowels. Fair to say I was not feeling too clever at this point, I grabbed a cup of hot coffee, grabbed some food from Jane and headed off for my first leg with Matthew.
I have to be honest and say that everything became pretty hazy after this point, it got tough, although it was great to running with another fresh pair of legs in the shape of Matthew. I remember leaving the Reading CP and soon we were coming across a few drunk party goers here and there, My next memories were climbing up some horrible steps and coming to a housing estate where Jane and Arthur were parked up with the boot of the car open and ready for me to dive in and take whatever I needed. It was finally time to surrender to the sugar, I packed a few Gu gels and some Gu Roctane gels (high in caffiene and slower burning). I ripped open a Roctane and it felt really good! I washed it down with some coconut water and nibbled a muffin quarter and followed Matthews lead to the trail again. I left feeling much better as the Roctane kicked in and feeling incredibly pleased that I had run over 60 miles without and ounce of sugary product, that was a real achievement for me. I had run over 30 miles fuelled on fats and over 60 with just fats and clean carbs.
I perked up for a little way, almost rushing on the buzz of the Roctane, the difference was incredible, but the remainder of my journey was to be a rollercoaster of ups and downs, I would get little energy bursts followed by feeling complete exhaustion. By this time my brain was not really working very well at all, my vision was not at its best and my Suunto had died; I changed the settings to prolong the battery life to 50hrs, but it had obviously not worked. I was heavily reliant on Matthew looking for the course markers. I remember meeting Mum and Dad somewhere just before the Whitchurch CP at Mile 71, they were accompanied with their long time family friend Anne and Pete Prior. I knew I must have been looking pretty ropey at this stage, because bless Anne and Pete they just could not hide the look of shock on their faces when they saw me, it was kind of a shocked/concerned look, almost as though someone was being cruel to an animal kind of look. I again grabbed what I needed and carried on.
The next phase is a real blur for me, I remember my eyes causing me problems when running on the wet grass, the reflection of my head torch bouncing off the dew made an illusion that the grass was really long and almost touching my nose, when in reality it was no longer than 3 inches. I was again completely reliant on whichever pacer was with me to keep me as positive as possible and more importantly out of the river and on track! I lost all track of CP names and the route in general, all I knew was that we were headed to Oxford and I was going to make it at all costs guided by my two hero's Matthew and Stephen. I think it was a good thing in hindsight that my Suunto died, as it stopped me realising just how slow I was moving and how long was left – unless I asked my pacer of course. I kept getting real pangs of guilt at how long I was keeping everybody out in the cold night, the temperature was still dropping and eventually got as low as 2 degrees, I wanted to reach the end as quickly as possible, more for the benefit of my amazing pacers and support crew, as the realisation that my 20 hour target was no way going to happen – what a ridiculous idea that was……20 hours pah! My new goal was under 24 hours and that spurred me on again!
The next phase I can remember clearly was in the early hours of the morning, again I have no idea where we were on the course, we came to a CP that was in a village hall or it may have even been a church. It had nice warm lighting and it was lovely and warm inside, it had a lovely cosy and welcoming ambience about it and there were loads of runners in there, all looking exhausted, most of them wrapped up on the floor or sat in very inviting looking chairs. Oh the temptation……..I resisted, asked for a strong coffee, said thank you and left as quickly as I could with the coffee in my hands. I really cannot begin to imagine how difficult it must have been for those runners to pull themselves away from their cosy blankets and seats and get back to the cold, muddy and wet trail. I nibbled down some muffin and another salt stick (Matthew and Stephen were brilliant at timing me and telling me when I was due another salt stick, each change over of pacer they updated each other on how I was doing and when I was due for my next stick) and I had another lease of life, this is where my competitive streak really came out in me, all I could think about was how many places I had climbed by not stopping long at the last CP and leaving all the other runners behind. I remember getting a really good pace for around a mile or so before slowing down yet again.
Stephen and I then headed into what was by far the hardest section of the course, the path was incredibly narrow and incredibly slippery, not good with vision that is bordering hallucinogenic. I lost count of how many times my feet were completely submerged in wet, thick, freezing cold, sludgey mud. At one point Stephen slipped over completely and I slipped at the same time; cutting my ear on a branch, releasing a volley of foul language! I really was not a happy camper, poor Stephen can't have been enjoying it either, but he stayed very upbeat and positive making me laugh and see the funny side of things. This section seemed to go on forever, running was just impossible, it would have just been asking for an injury. By this time my feet were soaking wet, feeling like blocks of ice and my bowels were causing me great pain. The next CP could not come quick enough, all I wanted to do was find my support crew and change my shoes and get my tights on and more layers, I was cold.
We eventually reached the next CP after meeting a lovely lady called Kat, who was running alone and put me to complete shame, she was so upbeat and happy, she really helped pick me up – thanks Kat! At the CP I had my comfort break, grabbed a banana and a strong coffee and moved on further down the route to find Mum and Dad, so I could stock up and change my shoes. When we got to the car I was absolutely freezing and fed up, one of my feet had become sore and split slightly on the sole due to being so wet for so long. I took off my super comfy, but wet Hoka's and put on some dry Injinji socks and some 2XU calf guards, pulled on my tights and it felt good! I was indecisive as to which shoes to put on, my AsicsTrabuco's which had a better grip than the very slippy Hoka's or my Salomon Crossfire 3's which had amazing grip but could be uncomfortable on firmer ground. Given the fact we had just travelled through a total mud bath I opted for the bigger grip of the Salomons, it felt like an eternity to put them on, pulling my stiff legs up to reach my feet was real hard work.
Feeling dry, warm and full of caffeine from my coffee and sugar from my banana I headed off in a much more positive frame of mind with Matthew, and even better it was getting lighter, dawn was coming! I warmed up even more and we bumped into Andy Nuttal again as we passed through a village and back on to the footpath. The sun rise was fantastic, we could again see the beautiful surroundings we were travelling though, it was so peaceful and beautiful, for a time I felt refreshed and we picked up the pace again, all the time nibbling on my muffins or some naughty shop bought granola that was to die for. After just a few miles my Salomon shoes began to become incredibly uncomfortable and were really hurting my foot with the split on the sole. This section then really seemed to drag, the CP was 2 miles further away than expected and it really was like pulling teeth, I was feeling pretty low again and had a spell of feeling sleepy, again the next CP could not come soon enough, I needed to change my footwear again. When we reached this CP I was not only feeling physically and mentally exhausted, I was emotionally exhausted. There was a tense atmosphere at this CP, the poor Centurion volunteers, who were doing a fantastic job had been taking some flack from some of the runners because the CP was 2 miles further than expected. I grabbed a coffee and a banana and went outside to see Mum and Dad where I just broke down in tears, I was so disappointed in myself for crying in front of them, which sparked them off, they too were cold and tired and didn't need to be seeing me being a wimp! I changed back into the comfort of my wet Hoka's, the course was nowhere near as muddy and my feet were missing that cushioning. I made a quick and very emotional phone call home to my wife, where I again broke down crying; I was just simply feeling emotional, I never had any doubt that I was not going to finish. I pulled myself together and set off with Stephen for another leg.
As was becoming a regular pattern after a CP, I was beaming full of energy again and we set off at a really good pace, I was now aware that my goal of under 24 hours was highly unlikely and my goal shifted to just simply finishing! We hit a few boggy sections again and we passed the very friendly Kat after all struggling across a particularly slippery section together. We really hammered this section, we were steam rollering and we arrived at the next CP almost 30 minutes ahead of our ETA! I barely stopped at this CP, just grabbed a strong coffee and took it with me and moved onwards Oxford bound with Matthew. Again my memory is pretty foggy, I remember the temperature quickly rising again and I was back down to just my THHN vest before long and the disgusting midges were coming out to play again! The weather really was incredible for a second day, which so helped in lifting my mood. I don't remember much about this section or the changeover of pacers, my next memory was stopping with Stephen to put a compede plaster on my foot, which really helped.
My next memory was running to the last CP with Matthew, yet another comfort break was needed! Ate some flapjack and we were on our way for the last leg to Oxford. We bumped into Arthur who just appeared on a track from nowhere with his camera in hand, he told us that Jane was at the end of the track waiting with sausages! It was great to see them again and the sausages were very much appreciated. My sister called me to see how we were doing, I told her we were just about 1 mile away and tears welled up as my niece and nephew could be heard in the background cheering me on. I was again becoming more and more emotional the closer we got to Oxford, Matthew started to read out to me all the amazing messages of support that I had received on facebook and told me that my sponsorship was close to £5,000, this really drove me on and he continued to read them out to me until close to the finish line. When I could see the finish line was just a few hundred yards away I could not help but pick up the pace for a strong finish, with tears pouring from my eyes and pulling the most ridiculous of faces that only my mother could love I drove down towards the finish line. A big high five for my Dad who was standing on the side and straight into my Mums arms for the most emotional hug a mother and son could have, both of us sobbing! I was home it was done, I was a Centurion! Finishing in 107th place with a time of 25 hours 22 minutes, not quite 20 hours, but it was a finish with a buckle and I was proud as punch, what a journey!
I really cannot thank my Mum, Dad, Arthur, Jane, Matthew, Stephen, Anne and Pete enough for supporting me so incredibly well on this run, I would not have made it without you!
A heartfelt thank you to everyone who sponsored me; it is now over £5,000!! A heartfelt thank you to everyone who trained with me and offered words of support. Most of all a huge super thank you to my rock, my beautiful wife Suzanne for allowing me to do this and being a running widow for many months whilst I was training.
A big thank you to Nici for the super hug and kiss at the finish and for making me feel very special, as did all the amazing Centurion crew – thank you for putting on such an incredible event, an event I will never forget! Thank you.
A special thank you to Pro-Direct Running for sponsoring some of Luke's running kit for this event, your support is very much appreciated and valued.
Comments