Posted
Thursday, 19th July, 2012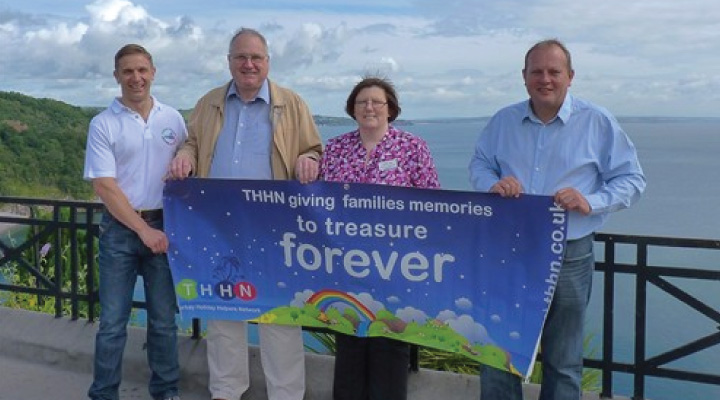 The various events that took place in the huge HSBC Marquee on Babbacombe Downs as part of the Babbacombe Festival at the end of June have been hailed a spectacular success by organisers after raising over £16,000 for chosen charity, Torbay Holiday Helpers Network.
David Hanbury and Martyn Strange, who were responsible for the majority of events that took place within the marquee, produced an incredible weekend of entertainment with something for all tastes and all budgets. Armed Forces Day on the Saturday, which is put on in conjunction with Conway Hoare of Torbay Council, saw Babbacombe Downs heaving with people. There were stands, live music, the wonderful Veterans' Parade and, this year, a fantastic air show featuring aircraft including the Twister Air Duo, an RAF Hawk and a Spitfire. This was all laid on entirely free of charge to anyone who cared to come along and soak up the atmosphere. After the veterans enjoyed refreshments and entertainment in the marquee, the decks were cleared and the marquee was transformed into Babbacombe's very own Sand's Hotel in preparation for the first of the fund-raising events, Saturday night's Rat Pack Vegas Spectacular. Over 300 people enjoyed Pimm's, a delicious meal and then the superb Rat Pack live show. The event also featured an auction sponsored by Babbacombe Garage and compered by Simon Crawshay.
Overnight the marquee was again cleared and readied for Hanbury's Fish and Chips Music Festival which started at noon on the Sunday and continued into the evening. As ever, hundreds of people turned out to buy their fish and chips from Hanbury's and then take them into the marquee to enjoy the non-stop live music and entertainment throughout the day. As well as an auction in aid of the THHN there was also a draw to raise funds for the Fishermen's Mission which achieved nearly £800 for this worthwhile cause.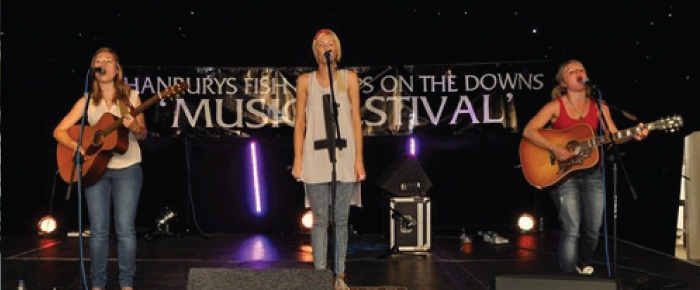 David Hanbury said "The weekend was a huge success. The Rat Pack event was something completely different to anything we've done before, people seemed to really enjoy themselves and there was a wonderful atmosphere throughout the evening. As for our Fish and Chips Music Festival, I'm always delighted with the support we receive and this year was no exception. For 2012 I chose to support the Torbay Holiday Helpers Network (THHN). This is an incredible charity run by Luke Tillen and I'm absolutely thrilled that the weekend raised such a great total." He added "I would like to point out that I couldn't have done any of this without the help of Martyn Strange of the Babbacombe Inn who, to list just some of the work he undertakes, organises the marquee, the electrics, runs the bar and provides all the security we need. This is a vital part of our weekend and if he didn't do all of that for us we simply wouldn't be able to put these events on." The £16,000 raised over the weekend was a combination of generous sponsorship from local businesses, in particular the HSBC and Babbacombe Garage, along with donations, auctions, a draw and profits from Hanbury's Takeaway. Luke Tillen, founder and Chairman of the THHN said "I very much appreciate the support that David Hanbury, Martyn Strange and their teams have given the THHN. Not only did the weekend raise an enormous amount of money for us it also helped raise awareness of our work. The THHN is a relatively new charity and to have an opportunity to spread the word is invaluable. The generous backing that the HSBC and Babbacombe Garage gave these events really made a difference too."
The THHN provides free holidays for families who have seriously ill children, recently bereaved families, couples who have lost a child and families who have a terminally ill parent. Since it was set up 2 ½ years ago it has provided over 220 free holidays and there's no shortage of families who could benefit from a wonderful holiday on the English Riviera. Whilst these holidays are possible due to the generosity of local accommodation providers and businesses Luke is passionate about making the entire holiday experience free. As such, much of the money raised will go towards paying any travelling expenses the families may have. Luke said "The families who come on a THHN holiday really deserve a break. However, due to their circumstances often one or both parents have had to give up their jobs to provide full-time care. I want to offer them a truly free holiday and paying their travel expenses helps us achieve that."
For more about the THHN visit www.thhn.co.uk where there's information on current supporters as well as how to get involved. More information about the Babbacombe Festival is available at www.babbacombe.org with a slide-show of photos from the weekend's events at www.babbacombefestival.com
Comments