Posted
Tuesday, 19th July, 2011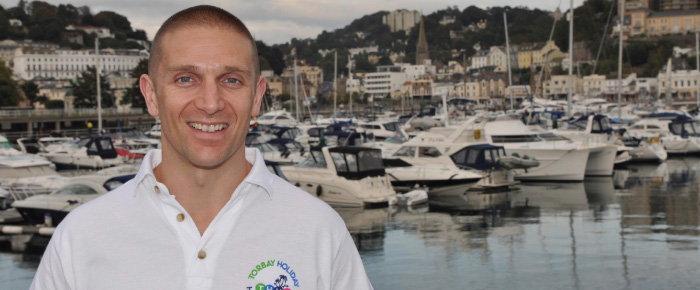 My name is Luke Tillen and I am the founder and chairman of the charity Torbay Holiday Helpers Network, also known as THHN. I am also a partner in my family business the Hotel De La Mer, where we are now entering our 36th successful season of trading!
I was born in Reading, but I have lived in Torquay all of my life, as my parents moved down to the Bay when I was just 6 months old – and how grateful I am to them for making that decision, what a wonderful place Torbay has been to grow up!
I studied Hotel & Catering Management at South Devon College for 3 years, leaving in 1995. When I joined the workforce I worked in several kitchens across Torbay and surrounding areas as a chef before coming to work in the family business in 1997 where I am still currently working today. I live at the hotel with my wife Suzanne and three boys Oliver, Louis and Harry.
HOW WAS THHN STARTED?
The charity was started by pure coincidence, I watch very little television, but one dull evening in May 2009 I sat down in the lounge and caught part of an episode of the Channel 4 programme "Secret Millionaire".
The programme focused on self made multi millionaire scrap metal merchant – Gary Eastwood who was travelling around the seaside resort of Blackpool, looking for good causes to give financial support to. Here he found a small charity called Donna's Dream House, which is run by Len and Barbara Curtis. Len and Barbara very sadly lost their daughter Donna to cancer aged just 20 years old.
Donna bravely fought the disease for 3 years before losing her battle to the cruel illness. During her time in various hospitals she encountered a great many, very brave young children and their families and she was astounded by their bravery. Donna knew only too well the effect of having a seriously ill family member had on the whole family. She made it her dying wish to create a magical haven for families who had sick young children to go and stay on a free holiday, away from the reality of what they were facing.
After Donna passed away Len & Barbara purchased a run-down hotel in the town and raised enough funds to convert it in to Donnas Dream House where they have special themed bedrooms and offer free holidays to families who have sick children, fulfilling Donnas legacy.
When secret millionaire Gary Eastwood visited the dream house they showed footage of a young boy who was taking his very last holiday with his family, as he was fighting a losing battle with cancer. It left me feeling absolutely saddened to my core and really did hit home with me just how lucky I was to be the father of my first healthy son Oliver. Gary went on to donate £50,000 to Len & Barbara to help further their great work and he continues to support them to this day in helping them reach their goals.
I liken seeing that little boy and his family to being hit in the face with a cricket bat – it really was one of those life changing moments! In the following days my mind would not stop racing – haunted by the images of the little boy and his family, you really could see just how much that holiday had meant to them, giving them a chance to build up some very special final memories with their beloved child.
It inspired me and I sat back and thought to myself how easy it would be for me – being a hotel owner to be able to help families in similar positions by offering the occasional free holiday at times when our bookings would allow. What better place to offer a family who are going through turmoil a free holiday than the beautiful English Riviera with all it has to offer.
I contacted the charity NACCPO – National Alliance of Childhood Cancer Parent Organisations, and asked if they would like to offer some free holidays to families with seriously ill or bereaved children staying at my family run hotel in Babbacombe. They were delighted with my offer and got to work in finding a family for my first free holiday offer.
After that phone call again my brain started to race and I thought that maybe I could approach the local tourist attractions to see if they would allow families free entry during their holidays and approach other businesses to see if they could offer free services to the families. And so I began to make lots of phone calls and send lots of emails asking the question.
Thankfully the response from the local business community here in Torbay and surrounding areas was absolutely colossal and the idea snowballed, and so THHN was born!
In August 2009 THHN gave away its first free holiday to 16yr old Hannah Jones and her family from Chester. Hannah suffers from a brain tumour and has undergone 3 major brain surgeries, she has had to learn to walk and talk again after she suffered a stroke as a result of one of the surgeries and she has endured gruelling course of chemo and radio therapy. You can imagine the family really needed a break away and that is what we gave them. They stayed with us at the Hotel De La Mer and enjoyed days out at lots of the local attractions as well as enjoying free meals at Angels Tea Rooms and Hanbury's restaurant in Babbacombe. The family said that they will treasure the memories of their holiday forever.
WHERE IS THHN TODAY?
We have come an incredibly long way in a very short space of time, we are now a registered charity with the Charities Commission for England & Wales and since the Jones family we have now given away over 320 free holidays to families from across the UK and to many local families too who are affected by serious illness or bereavement and this figure is rising on a weekly basis. The holidays have not just been offered in Torbay and the surrounding areas we have now spread further afield and now offer holidays in Cornwall, South Wales, Alnick, Bournemouth, Blackpool, Cumbria, New Forest and even in France!
We offer our holidays to families who have children suffering from serious illness, to bereaved families who have lost a child or parent and to families who have a terminally ill parent. so you can see our holidays are offered to a very wide scope of families affected by many different situations, from cancer patients right through to families who have been affected by homicide.
The holidays we offer cover a full scope of accommodation providers from half board hotel breaks right through to luxury 5 star self catering holiday cottages. We currently have a network of over 130 businesses offering free services to our families, of which the majority are predominantly based here in Torbay and surrounding areas.
Thanks to very generous fundraisers we can now offer grants to families who are struggling financially. This may be by covering their fuel costs, buying them train or coach tickets or even hiring a vehicle for the family and covering their fuel costs as well. The reason for introducing our grants scheme is because we started to find that a good percentage of the families who were being offered our services simply could not afford to travel to and from their holiday, so sadly had to turn down the offer of a free break. Many of the families who have a seriously ill member find that one of the parents has to quit fulltime employment in order to care for the sick family member. This has a massive financial impact on the families on top of what they are already dealing with the possibility that they may lose a beloved member of their family. This may also be the case if one of the parents has passed away and the remaining parent has to care for the children fulltime. This grants scheme was introduced last year and has been hugely successful.
Our holidays are only awarded via referral from NHS medical professionals, social workers or registered charity support workers. We now work with over 100 charities, hospices, hospitals and organisations nationwide who refer families to us for our support, including the likes of Great Ormond Street Children's Hospital, CLIC Sargent, Rainbow Trust Children's Charity, Barnardo's and Victim Support.
WHAT EXACTLY DO THHN FAMILIES GET?
When a family arrives on a holiday they will receive a welcome pack that contains a "THHN Family Pass", this pass can gain the family free entry in to over 30 local tourist attractions, leisure facilities – such as the Waves Leisure pool here at the Riviera Centre, cinemas, theatres, restaurants, beauty salons, boat and train trips and they can even have free flying lessons if they choose to do so! This really is just tipping the iceberg, there really is a vast amount on offer to experience for the families.
All families are given family bus passes to use during their stay, for families who do not have their own transport we can even organise for chauffeur driven limousines to take them out on a special day trip. We also have a large amount of volunteers who offer to transport families to and from attractions.
If a family is on a self catering holiday then we organise for a selection of food hampers to be in place for the family ready for their arrival. This includes; a butchers box; fresh organic fruit, vegetables and milk; cup cakes; a selection of treats from a fish delicatessens and a bakery selection of fresh bread and rolls. The hampers really are quite impressive!
The families who are on self catering breaks really appreciate the offers from our eateries, the following businesses all offer free meals to THHN families; Angels Tea Rooms; Hanburys Fish & Chip Restaurant; The Cliff Railway Cafe; Talk of the Town in Paignton and Poopdeck fish restaurant in Brixham.
All visiting families are offered a free photo shoot with our photographer Dougie Worthington, Dougie will spend as much time as needed with a family to get as many shots as they would like – giving them a final product that they will really treasure.
We also have our very own beach hut situated on Preston Green, which is managed by a local family who sadly lost their 3yr old daughter to a rare genetic condition. All the materials for the hut were donated from local businesses and it was built free of charge by a local tradesman. The council very kindly help with the storage fees and we have been very lucky to have the site rental fees covered by the Model Village and a group of Free Masons. Families love using the beach hut, it gives them a fantastic traditional Great British day out at the seaside!
There really is such a diverse selection of businesses involved with supporting the charity, I have been simply astounded by the support that has been offered and given to us since we started. The businesses have not just been stemming from the hospitality and tourism industry, we have had support from builders, solicitors, accountants, journalists, production companies and printers to name just a few. I really do feel that THHN offers businesses a unique way of helping, by giving their time, experience and offering their services free of charge as opposed to donating money.
THE STORY GOES FULL CIRCLE
The idea for THHN was born from being inspired by the work of another charity, and I am thrilled to say that THHN has inspired others, so much so that more charities have been set up in the wake of our work! A couple of years ago a gentleman in New Zealand got in touch with me to say how impressed he was with the idea of THHN and that he would like to set up a similar scheme in his home country. I liaised very closely with him and I am pleased to say that in January 2012 Holiday Helpers New Zealand gave away its first free holiday!
In the Spring of 2010 I met a very special young lady called Alice Pyne, 15yr old Alice was battling Hodgkins Lymphoma when she came on her first THHN holiday. We met in Torbay hospital as Alice got rushed in two days in to her holiday due to being struck down with an infection which in turn spiked her temperature. It was Easter so I paid her a visit with some Easter eggs, I struck up a very good relationship with the whole family and we have been friends ever since that day.
Unfortunately Alice spent the rest of the holiday plus 3 extra days in Torbay Hospital, so needless to say we invited her and her family back to the Riviera for another holiday. The family absolutely loved their time here in Devon and were blown away with the generosity of the local business community.
Sadly later the following year Alice was told her condition was terminal, so Alice being Alice was still very positive and she drew up a bucket list of things she wanted to do before, as in her words "she popped off"! This list included some very selfless things – number one on the list was to get as many people as possible to sign up to be bone marrow donors and she encouraged literally tens of thousands of people to do exactly that – from right across the world, when her bucket list went viral on the internet!
Another wish on her list was to design an Emma Bridgewater mug for THHN, which she did and Emma Bridgwater donated all of the profits from the mug to THHN. The mug went on sale and was the first non-profit item to ever go on sale in Liberty's of London. The mug generated a whopping £13,000 for the charity and raised great awareness of our work.
Alice loved her THHN holidays so much and the concept behind the charity that she decided to set up her own charity called Alice's Escapes which is based in her home county of Cumbria. The charity offers free holidays to families with seriously ill children, under the same template of businesses offering free services.
Very sadly Alice passed away peacefully surrounded by her loving family early this January. Alice has left an incredible legacy and was awarded a British Empire Medal and a Pride of Britain Award shortly before she passed away.
I have met many very special children and families during my short journey with THHN, which is one of the best experiences I have gained from setting it up the charity, but one of the worst is seeing so many very brave children losing their battles with cruel illnesses.
WHAT IS THE FUTURE OF THHN?
For the future of the charity we would very much like to encourage more accommodation providers to join our scheme, during the school holidays we could fill our allocation of donated holidays 6 times over, meaning many families miss out.
Hopefully the rapid growth of businesses offering their services to the charity will continue and we will be able to accommodate all of these families in need of our services.
As the charity has grown it has become apparent that we cannot help all of the families who fit our criteria. Sadly we currently have to turn away families who have a member with high level medical care needs. This is because understandably our current accommodation providers simply do not have the facilities to accommodate such families. My aim is to provide a facility in the Torbay area which is fully equipped and able to provide everything these families might need. This would be a facility that would enable families that couldn't normally consider a holiday the opportunity for a little respite in a wonderful location. This is obviously a long-term fundraising project for us. We plan to either build on a plot of land or renovate an existing bungalow so, not only do we need to raise an enormous amount of money, we also need to find the right location for this project.
This will all take time and very hard work, but I am confident that myself and my team of volunteers can fulfil this very ambitious target!
We already have had some great support from local businesses offering to put on fundraising events; Hanbury's Takeaway will be holding their annual music festival for us, Pennywell Farm are holding a big fundraising day for us, Haddon Galleries are planning a charity art auction and exhibition, we have been made a nominated charity for the Torbay Half Marathon and Torbay Leisure Hotels are planning a summer ball. So there are great early signs of support to help reach our goal and help us to take our work even further still.
I am planning to raise money myself by running in the London Marathon this April, I am also running in a 69 mile ultra marathon along Hadrian's Wall from Carlisle to Newcastle in June and I will also be running in the Great West Run in October, which THHN is an affiliate charity for. So I am not just sitting around waiting for this to happen!
Summing up, what THHN offers is not going to change any situation or cure any illness, but what it does do is offers family a positive distraction from the nightmares that they call reality and gives them chance to holiday like a normal family and to build those all important memories. And helps them prepare for the very dark times that may lay ahead – because sadly for some of our families it has been their last holiday together as a complete family. Our holidays give them memories that they will treasure forever!
Comments