Posted
Saturday, 10th August, 2013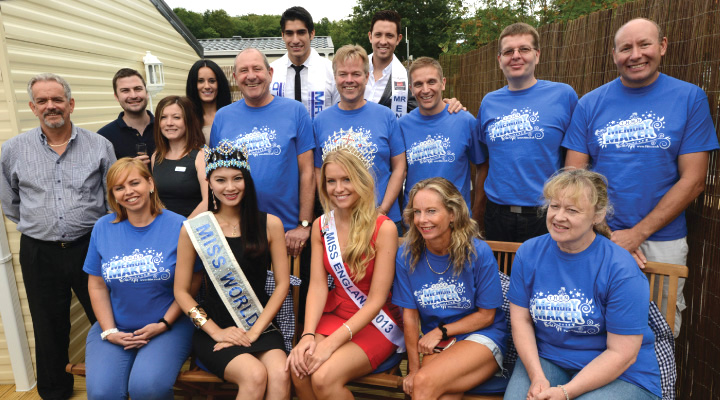 The Torbay Holiday Helpers Network took possession of a fabulous luxury caravan in the delightful Finlake Holiday Park on Friday 8th August after it was donated by the Miss England charity "Beauty with a Purpose" which was set up by Miss World organiser, Julia Morley. Each year the Miss England competition supports this charity and money raised during the finals of the competition is then donated to a cause within the competition host area.
Luke Tillen, founder and Chairman of the THHN accepted the keys in a presentation that included the official opening of the caravan by the current Miss England – Kirsty Heslewood and Miss World – Yu Wenxia. Luke said "We are thrilled with this luxurious caravan. The THHN gives free holidays to families who have seriously ill and bereaved children, recently bereaved families, couples who have lost a child and to families who have a terminally ill parent. We have so many deserving families who would love to take one of our holidays and we have to turn a lot of people away due to lack of accommodation. This wonderful facility will give us the opportunity to provide more holidays than ever before. That is what I set the THHN up to do and that's what we will continue to do."
Angie Beasley, Director of Miss England said "We're honoured to be involved with the Beauty for a Purpose charity and to be in a position to donate this great holiday home to such a deserving organisation is fantastic."
Julia Morley gave a short speech thanking Angie and everyone who had entered Miss England, especially those young women who enter the competition and genuinely work with a purpose. Julia also said that she believes that time spent with family is always vital and was impressed by the work the THHN was doing and the service it was providing.
Those present at this celebratory event also included Julien Parrott, Chairman of Torbay Council, Simon Wills from Babbacombe Model Village who has generously donated £500 to help kit out the caravan for the imminently arriving families. The event was also attended by Kris German from Harris Leisure Pools who very kindly provided a fabulous hot tub at cost price for the caravan and is providing chemicals free of charge. After the opening ceremony everyone was given a tour of the caravan and told a bit more about the THHN and future plans including the current fundraising that is underway to build or renovate a bungalow catering for families with high level care needs that the charity is unable to accommodate at present.
Luke said "As is so often the case, the delivery of the whole project here is thanks to a large group of people. Obviously the Beauty with a Purpose Charity donated the wonderful caravan but the flowers and hot tub are great extras and the decking is looking fabulous. My thanks go to Teign Renewables who fitted all the outdoor lighting for us free of charge, City Electrical Factors of Torquay who provided the lighting, Harris Leisure Pools and Laura Hingston Flowers for all their help in sorting these vital finishing touches out. Of course, we also must thank everyone at Finlake Holiday Park who has helped us throughout the process and will be a long-term partner in ensuring that our families have some really great holidays. We can't thank them enough, particularly Roya Jamshidi and Graham and Adam on the maintenance team who have been brilliant helping set the caravan up." "Not forgetting a very special thank you to my wife Suzanne who has put her heart and soul into the interior design of the caravan and ensuring it is going to be as comfy and cosy as possible for THHN families". "A very special thank you too must go to the lovely Jane Christian who made outdoor bunting and garden seat cushions for the caravan, as well as the wonderful un-veiling curtain". "The day has been absolutely fantastic and I would like to offer my heartfelt thanks to every single last person involved with this project". "This is by far the biggest day in our whirlwind 4 year history". "August marks our 4th birthday and since we started out in 2009 we have helped over 340 families who are living nightmares to have free action packed holidays". "We could not have asked for a better birthday present than this, I am simply overwhelmed by the incredible support from this fantastic organisation". "What THHN offers is not going to cure any illness or change any situation, but what it does is offer a positive distraction from the nightmares our families are living, it gives them chance to feel normal and build memories they will treasure forever".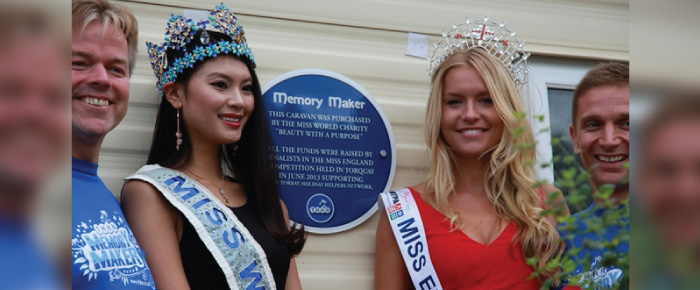 Roya Jamshidi, Senior Sales Executive Finlake Holiday Park, which is owned by the Haulfryn Group, said "Myself and Finlake would like to say how privileged we are to be a part of this amazing and worthy event. We know each family that will come to Finlake will have a memorable experience on the "Best Holiday Park in Britain". We will do everything we can as a team here at Finlake to facilitate the families that Torbay Holiday Helpers Network works with and make sure their holiday here is an unforgettable experience. We thank everyone involved in today's event. It has been an amazing beginning for the "Memory Makers Caravan at Finlake" and we welcome them to Finlake."
The first family to take a holiday in the Finlake caravan is due at the end of August which gives the team time to put a few finishing touches to it before their guests arrive.
Pictures courtesy of Kumar Chan and Peacock Dreams Photography.
Comments