Posted
Friday, 3rd January, 2020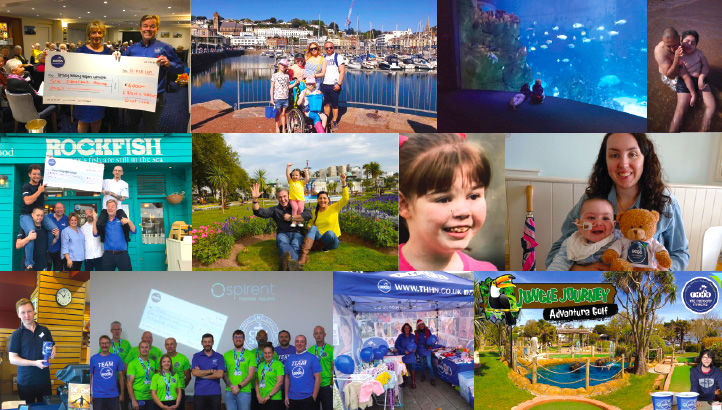 2019 Newsletter
Torbay Holiday Helpers Network was set up to support families affected by serious illness and bereavement. This year we passed a staggering milestone – our 800th family as we passed our 10th anniversary!!!

None of this is possible without fantastic people and businesses giving up time, money and services, so here are some snippets of our social media posts in 2019 – some of the 58 families we've all supported plus some of the events or donations.

Thank you to all mentioned and those not – too many to mention but all so valuable. Happy Christmas to you all and here's to a wonderful 2020.
Drum Roll Please First Family of 2019
We are all super excited about the fact that our first family of the year is arriving on the 18th of January, what an amazing start to the new year. This is going to be a stunning year and we are going to create lots of memories for lots of families.
Family Testimonial
We had such a relaxing week at Finlake. It marked the 1-year anniversary since we lost our darling Elizabeth from cancer aged 15 months. We dreaded the anniversary and being away together made it bearable. Thank you so much.
Schools Challenge and Fun Run
400+ Children took part in the Torbay Half Marathon on Paignton Green. What a fantastic sight to see all these children running and raising funds for THHN. Pennywell Farm Does it Again We are very pleased to announce that our long-term supporter Pennywell Farm is once again sponsoring the Schools Challenge at the Torbay Half Marathon.
Family Testimonial
We cannot thank you enough for the most amazing week in the beautiful lodge, we really didn't want to leave! We were completely blown away by the supporters of this wonderful charity and the things we got to experience. Forever grateful we got to make these happy memories to last a lifetime. Keep up the amazing work!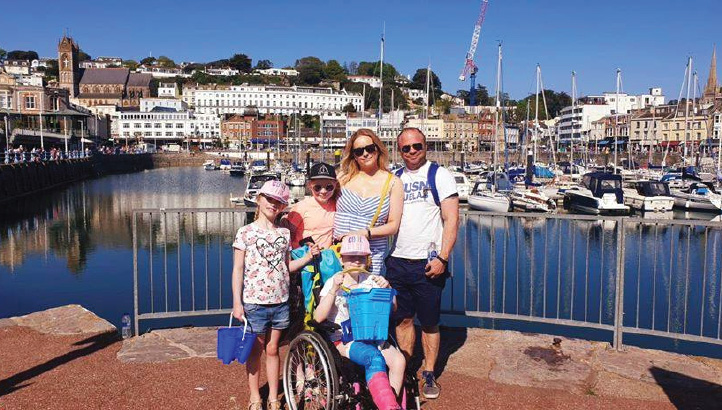 Pedal Car Grand Prix
Great fun was had at the Pedal Car Grand Prix this year. We raised £189.40 Well done everyone and a big thank you from us to you.
City to Sea Memory Maker Marathon
Our annual City to Sea event took place on 7 September. There were 398 registered participants who either ran or walked the marathon or ultra-marathon distance starting from Exeter and finishing on Babbacombe Downs. At the finish all participants are treated to fish and chips from our generous sponsor Hanburys Fish & Chips. This year the event raised a fantastic £16,000.00. We would like to thank all those who took part for helping us raise much needed funds, and to all those who gave up their time in preparation for the event and to help out on the day.
Festival of Fun
Glorious weather allowed everyone to have fun. With stalls, music and an amazing atmosphere the day was buzzing. We met some really lovely people and we had lots of volunteers helping out in in different ways all through the day. As well as some very generous musicians who performed for free, we raised a staggering amount allowing us to help yet more families.
Family Testimonial
Hi, thank you can never be enough to THHN and all the businesses involved in making our stay extra special. We have so many photos, I've chosen a few, 3 from in the park and the aquarium one that's just too much of a beautiful moment not to share Thank you again so much.
The Silent Hero
I don't think many people in the Torbay know the extent to which Dave Hanbury donates to charities. He is one of THHN major contributors and again this year is donating a portion of fish and chips to all contestants and marshals in this year's City to Sea Memory Makers Marathon.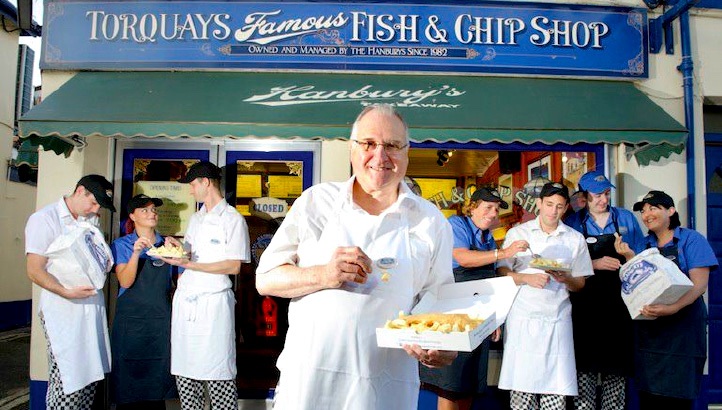 Another 10th Anniversary
Below Decks on the harbour are celebrating our Joint 10th Birthdays. Great music, great food and lots of fun was had.
Torre Village Christmas Fayre
THHN would like to thank the traders in Torre Village and the residents for making us so welcome and helping to raise enough money for 2 families to have a holiday.
Family Testimonial
This was the loveliest time, and this was made even more special to us as it was to be our last family holiday. Kimberley's health deteriorated, she heartbreakingly passed away on 5th October 2019. Thank you to everyone who made that time so special and gave us these wonderful lasting memories.
Tremendous Effort
We are absolutely staggered that Torquay Golf Club Ladies managed to raise an amazing £6,000.00 Once again, the wonderful local quilters of Project Linus UK have given THHN some stunning handmade quilts to give to the families.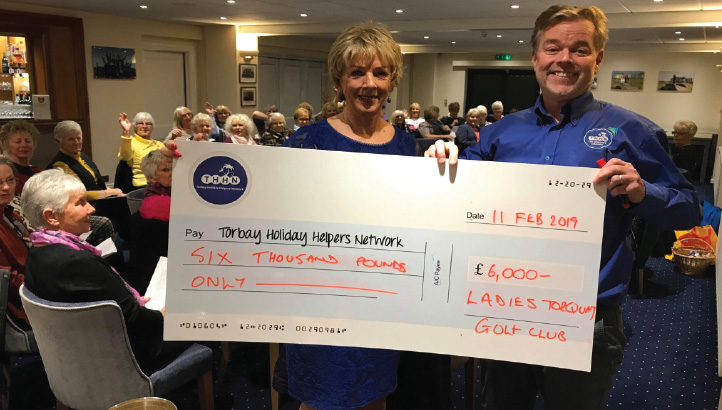 Family Testimonial
We would like to thank THHN for arranging such a wonderful family holiday for us. James was born with Leukaemia and spent most of the first 10 months of his life as in an-patient in hospital. What the charity and volunteers do is truly amazing, we have some fantastic memories which we will cherish for the rest of our lives.
Spirent – A great company with fantastic employees making a BIG difference.
This year with the option to enter as a fundraiser 9 employees took up the challenge and raised over £2,500 in addition to this Spirent offered to double their fundraising up to the value of £200 each which made the total £4,600.00.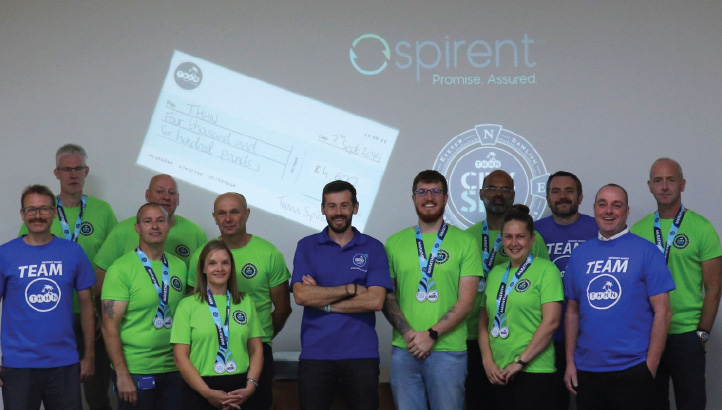 Business Supporter
A massive thank you to Jungle Journey Adventure Golf who had a fundraising event over the weekend for THHN. The event raised a wonderful £791.20 with customers donating money instead of the regular entrance fee.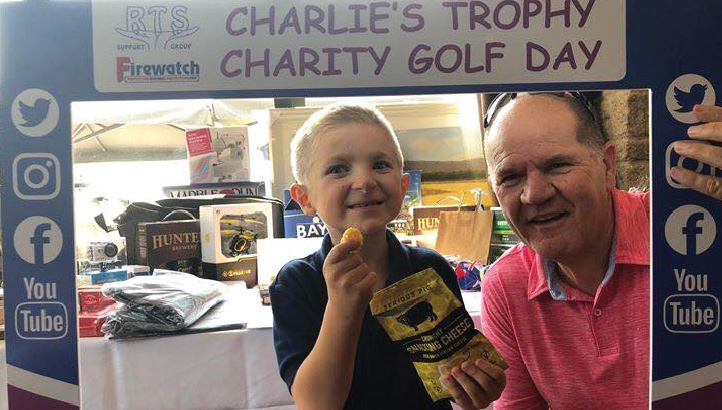 What a day! Beautiful, glorious sunny day as 132 golfers converged at Dainton Park Golf Club for Charlie's Trophy Massive thank you to Martin Smith, Charlie's grandad, for choosing THHN as a recipient of money raised and giving us a fantastic cheque of £2,000

Torbay Holiday Helper Network and all the families that have been able to create a wonderful memory with us, would like to extend a very big sincere thank you to Mitch Tonks and all his wonderful staff, and diners at Rockfish Torquay for presenting us with a cheque for £7,000.00 today. Add this to the previous amount raised by Rockfish and we are at a staggering £23,978.00 pounds.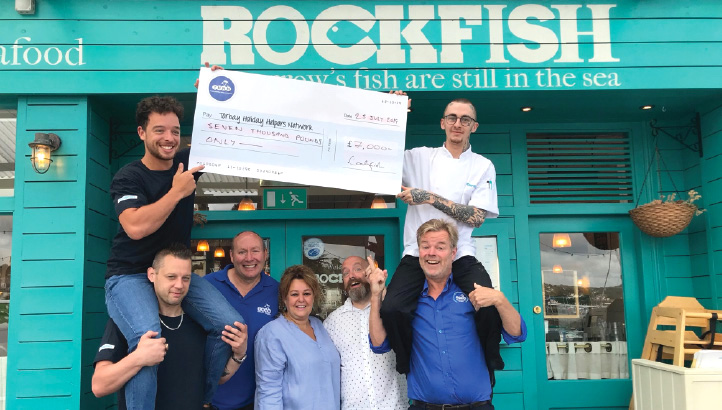 Family Testimonial
We as a family had the greatest time ever, we really loved it. It was the first holiday with my kids. I lost my eldest daughter in 2014 she was 6yr 2 months old then. My other son was diagnosed with the same illness. We absolutely loved it
Kents Cavern does a double
Not only does this wonderful attraction supply us with free tickets for our families. They also collect money as well. So a double thank you from all of us. Here is Jake with one of our collection tins
Martin Drake
Many thanks to Martin Drake Provincial Grand Primo 2018 of the RAOB and the Provincial Grand Lodge for an absolutely amazing donation of £4073.35.
Family Testimonial
The thought of having some quality time together seemed very much a dream! The holiday exceeded our expectations! After a week away, we came back feeling refreshed and relaxed something I can say, none of us have felt for the last 9 months! Sincerely from the bottom of my heart, thank you so much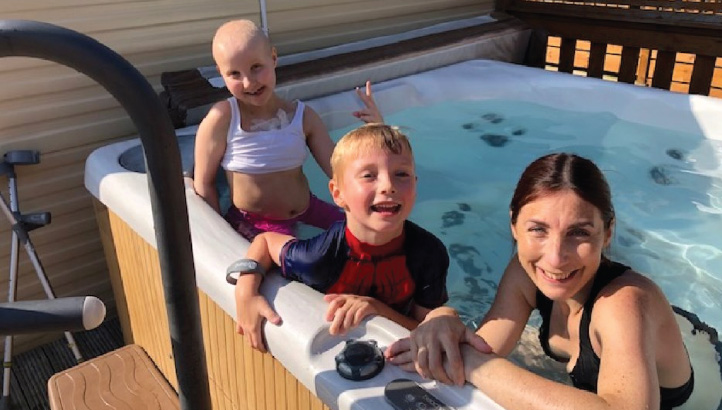 Refurbishment
We have been remodelling our Devon Hills Lodge allowing full wheelchair access, installing a hoist, wet room, shower stretcher, specialist toilet that both washes/dries. Also included in the refurbishment is a new bedroom, flooring and furniture which will be ready by spring 2020.

This could not have been done without the BNI hosting a 10th Birthday Celebration for us and raising nearly £8,000.00 as well as pledging kind donations by companies for specific items required in the lodge, joining the money raised last year. There are too many companies to mention but they all know who they are and they have our heartfelt thanks for their contributions.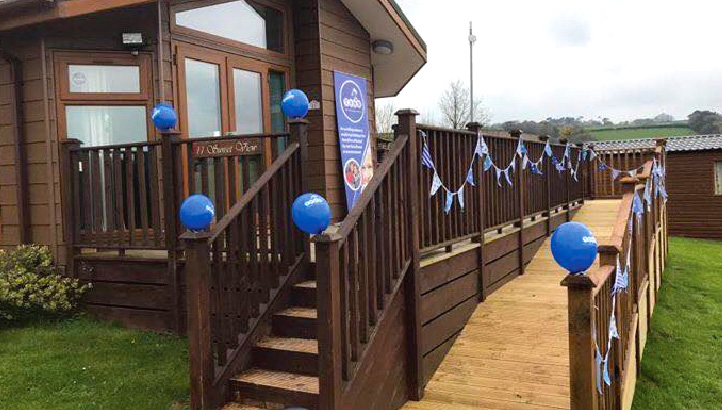 We would like to thank all the Accommodation Providers, Eateries and Attractions that kindly donate to the charity that makes it as successful as it is. This year we have had 58 families experiencing our memory making holidays; we could not do this without you.
From all of us at THHN and all the families you have helped and will help in the future we want to say a massive
Thank You

Hopefully you will join us next year doing it all over again
AT-A-GLANCE DIARY
Comments