Posted
Friday, 21st April, 2017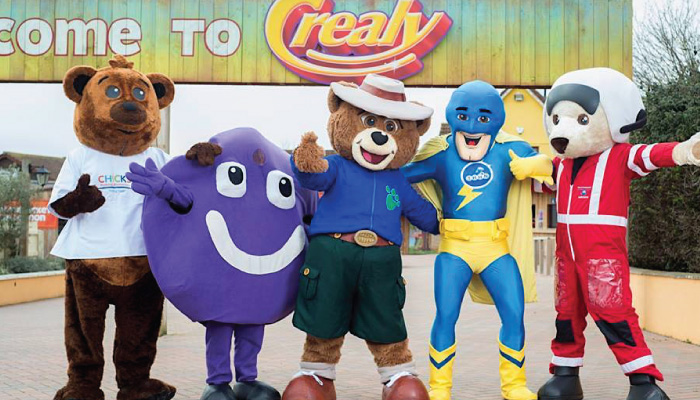 Once again we have a wealth of fundraising news for you. We are always amazed and touched by the generosity and energy of those who support THHN, both financially and with their time. A huge thank you to you all of you. Without you we would not be able to provide the memory-making holidays that families living with serious illness and bereavement so desperately need.
Let there be fundraising!
Last September when John Lake Estate Agents opened a new lettings office in St Marychurch, they pledged a contribution to THHN for every property successfully sold or let. As a result they raised an amazing £1,250, which they presented recently to THHN founder Luke Tillen and fundraising manager Brian Lewis.
Director Neil Bartlett commented, "We are proud to support such an amazing charity as THHN which has its grass roots in our local community yet touching people's lives all over the country."
Director John added, "A great amount of thanks must also go to our wonderful clients for kindly instructing our firm, as without them we could not provide this charitable donation and support the inspirational work of THHN."
THHN Founder Luke Tillen said, "We truly cannot thank John, Neil and their amazing team enough for the continued support and love that they show our charity."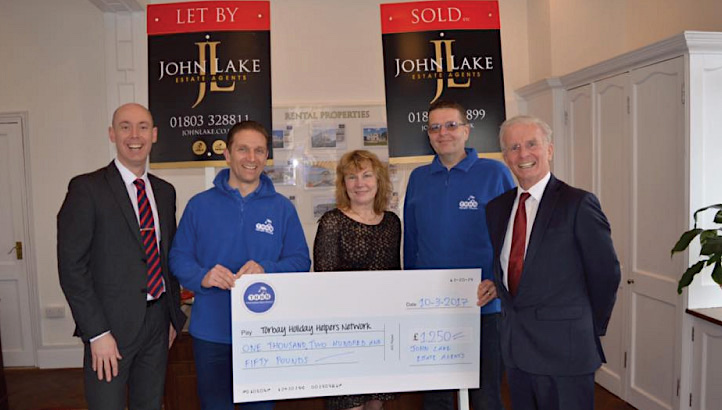 Ladies' night luck
A heartfelt thank you to the Three Pillars Lodge, Torbay Masters Lodge, Jordan Lodge and Lodge Concordia, who last year joined forces and held the most incredible Ladies Night at the Riviera International Conference Centre.
The whopping £1,850 they raised was split between four local charities, including THHN. David Wilson, Master of Lodge Concordia, came along to THHN HQ to present THHN founder Luke Tillen and THHN fundraising manager Brian Lewis with a cheque for a fantastic £462.51p.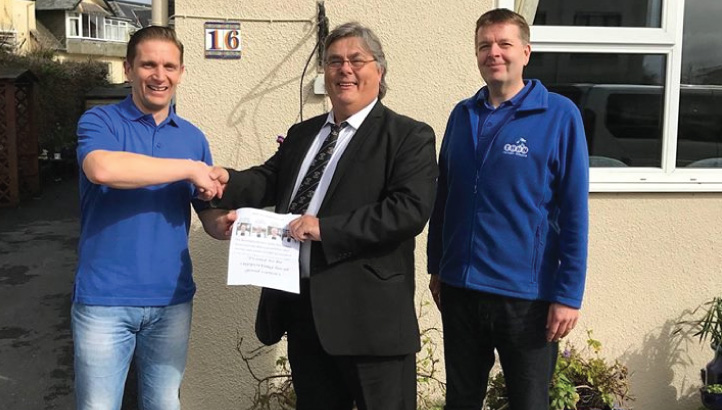 Crealy great news
Crealy Great Adventure Park and Resort have named THHN as one of the four charities they will be supporting in 2017.
THHN fundraising manager Brian Lewis said: "Crealy have helped THHN families for many years, for which we are very thankful. and we are delighted that we have been chosen as one of Crealy's charities in 2017."
Josh Haywood, Crealy's general manager, said: "We are passionate about helping local charities, so I'm thrilled that this year Crealy Adventure Park and Resort will be partnering with four extremely worthy local causes. We are looking forward to working closely with the fundraising teams and helping the charities as much as we possibly can."
Show stopper
THHN exhibited at two trade shows in March. Our team had the opportunity to highlight the work we do both at the Tourism and Business Exhibition at the Riviera Centre in Torquay and at the South West Business Expo in Exeter, where there were around 2,000 delegates. It was great to meet so many people and we hope to have recruited even more business supporters for our charity.
Good company
We are delighted that Ocean BMW Torbay have become the latest sponsors of the THHN City to Sea and Festival of Fun events on Sunday, 3September 2017.
Our Fundraising Manager Brian Lewis visited the Ocean BMW Torbay showroom to thank the team for sponsoring the event and helping THHN.
Gareth Watton, Ocean BMW Torbay Sales Manager, said "We love being involved with local charities and events, and this is one which really struck a chord with us. To see so much help and support being put back into our local community is so important, which is why we are so happy to be a part of such a fantastic event".
It is through the kind sponsorship of Ocean BMW, Hanburys Famous Fish & Chips and other event sponsors that we are able to put on the amazing City to Sea and Festival of Fun events. Can your company help THHN? We have a range of sponsorship opportunities starting from just £50 at the City to Sea and Festival of Fun. For more details or to arrange a meeting, please email our fundraising manager Brian at brian@thhn.co.uk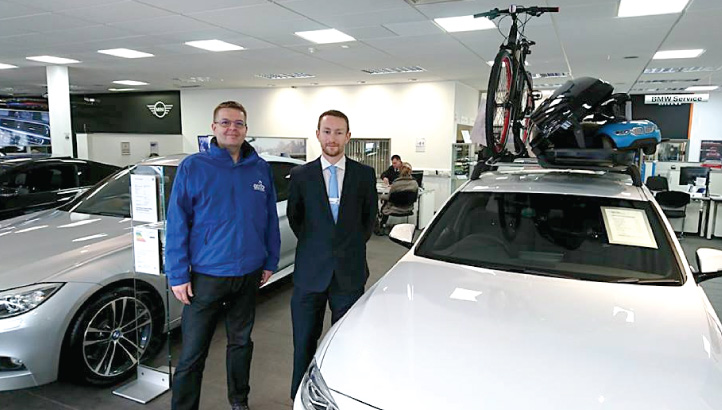 Glen's incredible challenge
Local personal trainer and legendary THHN fundraiser will be taking on the Atlantic Coastal Challenge for THHN in October. His feat of fitness will consist of three very tough coastal marathons over three days.
But as heroic as this challenge is, it is underpinned by tragedy. Glen first entered seven years ago in 2010, but never competed because he and his wife lost their son George while he was training for the event. "Obviously all training and events went out the window and my priorities changed to looking after my beautiful wife and just trying to get through the worst time any human being could ever go through," said Glen.
But he is now ready to have another go and his choice of charity is very personal. "This charity is so dear to me for the simple reason that if George had survived he would have been very poorly and this charity do so much for families going through exactly that."
Please give as much as you can afford, even if it's just £1, to support Glen's challenge for THHN. Donate at www.justgiving.com/Glen-Bevan5.
There is also one remaining slot (priced at £130) on Glen's shirt for any business interested in sponsoring him. The event is likely to be well covered in local media.
Be a Pennywell pioneer
There's still time to sign up for the first ever Pennywell Pursuit, a 10k trail race and 1-mile fun run for all ages, on Sunday, 30 April. It will be organised by Pennywell Farm and THHN, with £5 from every entry coming straight to THHN. Start and finish at Pennywell Farm, near Buckfastleigh. Enter today at www.pennywellfarm.co.uk
Relaying the news
Fancy doing the fabulous THHN City to Sea marathon or ultra on Sunday, 3 September, but unwilling to take on the entire distance? Then the relay option could be for you.
Recruit a team of friends, colleagues or family members, with each team member running a stage before handing over to the next team member:
Ultramarathon – two to four team members over four stages, running from Exeter to Babbacombe Downs via Torquay Harbour;
Marathon – two or three team members over three stages, running from Exeter to Babbacombe Downs.
Each team member gets a finisher's medal, T-shirt and free fish and chips from Hanbury's Famous Fish & Chips. Find out more and enter at: www.thhn.co.uk
Time to get Quizzing
The THHN Memory Maker Quiz is back on Tuesday 16th May at 7.30pm, Join the THHN Quiz Masters at the Babbacombe Inn for this fantastic fun quiz, entry is £10 for a team of up to 4 people, lots of prizes on offer and a raffle. To reserve your team a place email brian@thhn.co.uk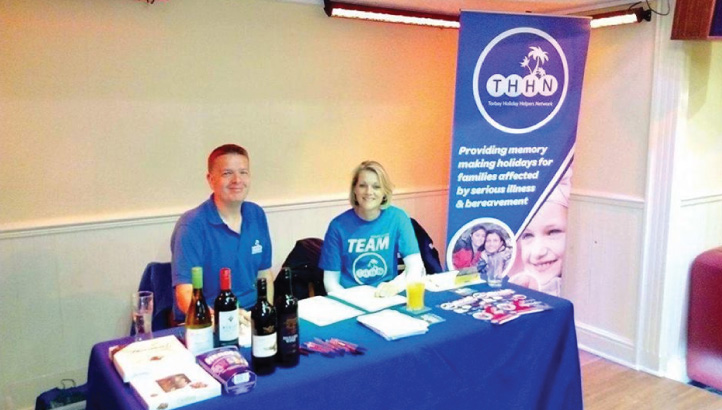 HOLIDAY NEWS
At the end of March a lovely family came to stay at THHN HQ, Hotel De La Mer in Babbacombe. We'd like to say a big thank you to our friends at Project Linus UK who very kindly donated one of their wonderful blankets for the family to enjoy.
AT-A-GLANCE DIARY
Comments