Posted
Thursday, 1st August, 2013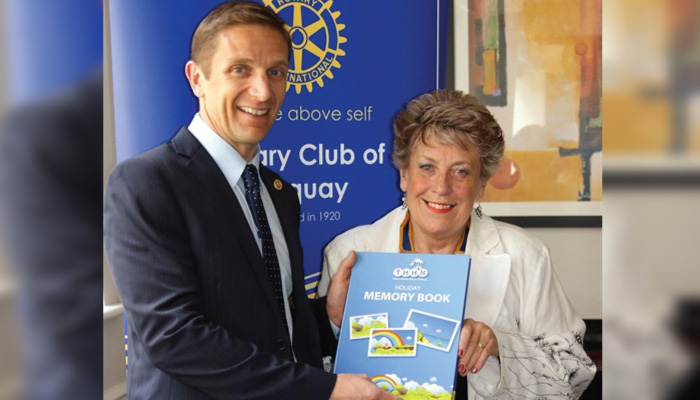 Welcome to the August 2013 THHN Newsletter. What a wonderful month July was and how lovely to be able to provide our holidaying families with some spectacular sunshine to enjoy as well as all the other great activities that they can get up to while they're here. Why go anywhere else?
NEWS
What are you doing tomorrow?
Got anything planned for tomorrow evening? If not there are still a few tickets left for our amazing Sinatra River Boat Cruise along the River Dart. Tickets are £12.50 per person and include pick up from Kingswear at 7.45pm, a beautiful evening spent enjoying the delights of the River Dart whilst being entertained by Phil Fryer "Just to be Frank", the UK's number one Frank Sinatra Tribute. Disembarking back at Kingswear at 10.45pm. With many thanks to our friends at Pole Position for organising this we have a few tickets still available – just ring us on 01803 325152 or e-mail enquiries@thhn.co.uk
Memory Books
Thanks to the Rotary Club of Torquay, when families come on a THHN holiday from now on they'll be given a Memory Book. This great new idea is essentially a scrapbook so that families can record what they get up to whilst on their holiday. The Rotary Club of Torquay has generously donated 500 books and they have received a great reception from the families that we've given them to so far. These books give our guests an opportunity for everyone to make notes about what they did, keep leaflets, put photos in or just doodle away however they choose. We're absolutely delighted with them and can't thank Viv Daubenspeck and the Rotary Club of Torquay enough.
Memory Maker Caravan
In last month's newsletter we announced the great news that the organisers of the Miss England Beauty Pageant are donating a static caravan to the THHN. We'll be getting the keys on 9 August and we are so looking forward to it. Miss England, Mr England,Mr World and Miss World (yes, Miss World) will be meeting us at the gorgeous Finlake Holiday Park to hand over the keys so that we can start letting families enjoy some hopefully wonderful holidays in this fabulous, tranquil setting. We'll bring you all the latest on that in next month's newsletter along with a list of all the people that have helped make this happen. In the meantime, we are looking to stock the caravan with games, DVDs, books etc. If you have any that you no longer want but think our families might like we'd be delighted to receive them. We are also looking for companies to sponsor flower troughs to decorate the decking surrounding the caravan. You can sponsor a trough for £50, if you are interested please email fundraising@thhn.co.uk
DIARY DATES
Saturday 30 August – Toorak Ball
We had to change the date of the Toorak Summer Ball but that's OK as it gives us another chance to tell you all about it. With great food and entertainment from Chris Chaplain and Steve Laister along with music from gypsy swing band, Hammer & Isaacs it's set to be a fantastic night. Tickets are just £30 each to include a sumptuous 3-course meal and are available from the Toorak Hotel Reception or phone 01803 400400. It's all in aid of raising money for our vitally important bungalow project.
Sunday 15 September – Agatha Christie Fête
We'll have a stall down on Torquay Marina as part of this lovely event. With music and loads to see pop along and say hello to us. October 13 – Great West Run. If you're interested in running in the Great West Run in Exeter to raise funds for the THHN please get in touch and we'll give you all the help you need. Simply e-mail fundraising@thhn.co.uk
Saturday 2 November – Art Day
The very nice people at Haddon Galleries are hosting an Art Day with an art auction and raffle of artwork in the evening. We'll bring you more details soon but please put the date in your diary.
SPECIAL THANKS TO:
Students of Brunel House at Westlands School in Torquay who have made the THHN their chosen charity for the year. They've already made a great start raising £21 at a break-time cake sale. We're really grateful for their support.
Hotel De La Mer who this month welcomed four families, one from the Rainbow Trust Children's Charity, one from Parent's Association for Seriously Ill Children (PASIC) one from Bristol CLIC Sargent and another from Scottish charity CCLASP (Children with Cancer and Leukaemia Advice and Support for Parents).
Brunel Manor who accommodated a family from Rainbow's Children's Hospice.
Claire's Cakes, D&H Fishmongers, Save on Meats, Hallets the Bakers, Steers the Greengrocers, Luscombes Butchers of Totnes, Riverford Organic Home Delivery, all of whom provide delicious things for our families to enjoy whilst on a self-catering holiday.
All the pupils at Priory Roman Catholic Primary School who took part in June's Pennywell Holiday Hike. They raised an amazing £230 and had a great time too.
David Musgrove and the Disabled Sailing Association who organised a very special day out for a wonderful little boy and his family – all at pretty short notice too. They could not have been nicer.
Winners 2000 for the constant support they give us and especially on a Friday when all the team were a THHN t-shirt or vest and help us spread the word. You are wonderful ambassadors for us and a joy to work with.
Harry and the team at The Royal Exeter Hotel in Bournemouth who welcomed a family referred by Scottish charity CCLASP (Children with Cancer and Leukaemia Advice and Support for Parents).
Lindsay at The Cliffs at Babbacombe who welcomed a family referred by the North Devon Lifetime Service
FEEDBACK
You can read some of the amazing feedback we have received from the Sims family by following this link /family-feedback/2013/07/sims-family-feedback
You can also read how the White family enjoyed their THHN break by following this link /family-feedback/2013/07/white-family-feedback
This amazing feedback just goes to demonstrate how much of an impact our holidays can have – well done everyone!
DID YOU KNOW?
August marks the 4th anniversary of the THHN. In that time we've given holidays to over 340 wonderful families. There are so many people involved in each of those holidays – as a network we should be very proud of ourselves. Thank you to each and every one of you who has helped in any way, large or small. Long may our work continue.
AT-A-GLANCE DIARY
Comments