Posted
Friday, 1st August, 2014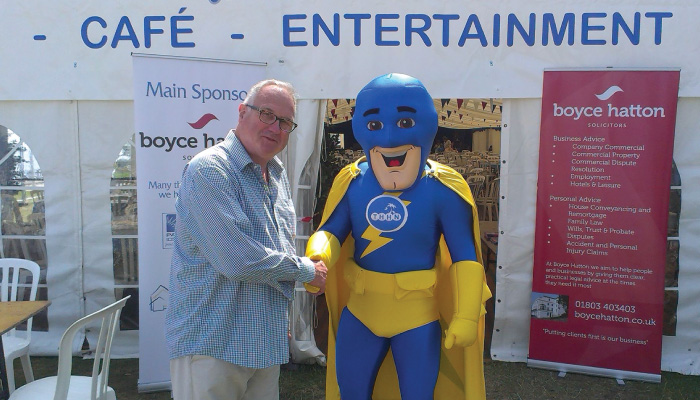 Well, the sunshine stayed with us in July and, as always, it's been a very busy month. Lots of amazing fundraising going on and lots of lovely families taking THHN holidays and enjoying a much needed special break on the wonderful English Riviera.
NEWS
Hanbury's Music Festival
This fabulous event back in June is always a firm favourite on many people's calendars. This year, a particularly spectacular amount of money has been raised thanks in no small part to amazing sponsorship from Boyce Hatton Solicitors, Babbacombe Garage, Riviera Mortgages, The Babbacombe Inn, The Buccaneer Inn, Angels Tea Rooms, The Rotary Club of Babbacombe and St Marychurch, Child Friendly Matters and, of course, the wonderful David Hanbury and his team. We are delighted to announce that the total raised was £10,480.81! Absolutely fabulous. Thank you to everyone who came along on the day, everyone who donated prizes and anyone who simply bought a raffle ticket.
Glen Bevan
You may have heard the name before as Glen is a huge supporter of ours and does the most incredible things to help raise money for us. Since December Glen has raised nearly £5,000 for us – that's absolutely amazing. His latest feat was over 10 hours of running and cycling over 85 miles, finishing up at the Cockington Caper. We can't thank Glen enough for all he does for us and thanks also to all of our Team THHN runners, our volunteers and to the Director of the Cockington Caper, Matthew Day, who invited us to be a part of this lovely event.
Neil Fowler
Neil Fowler is another amazing THHN supporter. For months Neil trained for a 100km walk, called Race to the Stones. Neil has amazing grit and determination and self-funded this challenge, including the entry fee and all the money he has spent on kit etc. He was determined that every penny he raised would go directly to the THHN. On the day itself Neil unfortunately didn't manage to finish the race as he had huge trouble with an ankle injury. Neil is an absolute trooper and we thank him from the bottom of our hearts. Even after injuring himself he continued for another 15 miles – incredible! Thank you so much to Neil and his support crew and to everyone who donated. Neil raised over £2000 which is a fantastic sum of money.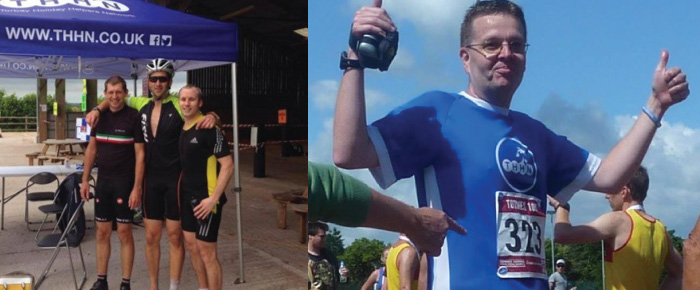 Brilliant Brian
You all know Brian by now. He's our fantastic Fundraising Manager. He co-ordinates events, organises volunteers – you name it, he does it and we would be absolutely lost without him. As if all of that wasn't enough in June he took up running and ran his very first race, the Totnes 10K, on Sunday 3 August – well done Brian. He'll be following that up with the Torbay 10K on Sunday 24 August. All to raise money for us. So, we urge you all to get behind Brilliant Brian and, if you can, please sponsor him. He has a Just Giving page at www.justgiving.com and we know would appreciate some support. Thank you Brian – for everything that you do.
Win £5000 for the THHN
There's still time to vote for Luke in the fantastic Mountain Warehouse Charity Challenge which could win £5000 for the THHN. Luke has entered his 100 mile Thames Path Run into the competition for consideration. If you haven't yet done so please visit Luke's entry on the Mountain Warehouse Charity Challenge page at www.mountainwarehouse.com and vote for him to win. Thanks very much.
5th Birthday Party
What a fantastic evening we all had out at sea on the The Devonshire celebrating our 5th birthday. The weather was wonderful and an evening cruise around the bay was an absolute treat. Thanks to everyone who joined us and special thanks to the Fringe Festival, to Over the Rainbow Cake Design for our delicious birthday cake, to Gary Nock for the excellent entertainment, to Brian for organising the event, to Carolanne and Neil Hart for decorating the boat in style and, of course, our friends at Greenway Ferry.
Pedal Car Grand Prix
What a fantastic day for Team THHN at the Pedal Car Grand Prix down on Torre Abbey Meadows. We won! This annual event, organised by the Babbacombe and St Marychurch Rotary, was a huge success and all the teams and spectators had a wonderful time. Our team was sponsored by our great friends at St Marychurch Rent Agency and we were incredibly grateful for the Vitargo energy drinks, supplied by Pro-Performance Torbay. It was, as always, a huge team effort and we couldn't have triumphed as we did without our support crew and their tireless work. As well as the team taking part a huge thank you to the volunteers who ran our fundraising stall on the green and to everyone who either sponsored the team or simply came along and cheered us on our way.
Tombola Prizes
As you know, we attend loads of lovely events throughout the year and often run a tombola. As such, we're always after little prizes that we could use. If you are able to supply anything suitable we'd love to hear from you. Please e-mail carolanne@thhn.co.uk Thank you.
DATES FOR THE DIARY
Art Exhibition – until Thursday 14 August the Rotary Club of Ashburton and Buckfast are holding their annual art exhibition at Buckfast Abbey. This event is raising money for various charities, one of which is the THHN, so why not pop along and take a look. Admission is free.
SPECIAL THANKS TO:
The Hotel De La Mer who this month welcomed a family referred by the Bristol CLIC Sargent Team, a family from the YP's department of the CLIC Sargent team at Birmingham Children's Hospital, a family from Birmingham St Mary's Hospice and one from the Birmingham Advocacy Service.
The Simms family who have themselves had a THHN holiday and wanted to give something back so held a cake bake and invited family and friends to make and enjoy a selection of scrumptious goodies. They raised £300 to be shared between the THHN and Eyes Alight, a brain injury rehabilitation charity. Fantastic.
Our great friends at Winners 2000 who held a Zumbathon to raise money for us.
Everyone involved in keeping our Memory Maker Caravan the beautiful holiday home that it is. This month it was home to a family referred by the Bristol CLIC Sargent team and a family from the Parents' Association for Seriously Ill Children charity.
Westcountry Fruit Sales, Teddy's Cakes, Save on Meats Torquay, Hallets the Bakers, Total Produce Devon, Riverford Torbay and South Hams and Torbay Family Butchers Ltd for all the delicious delights they provide for our holidaymakers.
The staff at Torbay and Southern Devon Health and Care NHS Trust who held a cake sale and raised £196.75 – great work.
Everyone who took part in the fun Boulder Bunker Challenge and, of course, to the great team at the Boulder Bunker who made us their chosen charity for the event.
The delightful Dart Vale Dental Dollies who took part in the Totnes Canoe Festival to raise funds for us.
To everyone who helps us provide our very special "holidays from home". We offer these to local families who don't want to go away on holiday or perhaps are not well enough to travel. We give them a THHN pass for the week which gives them access to all the free services and attractions thanks to all our fantastic local business supporters.
Harris Pools and Leisure for keeping us topped up with supplies for our lovely hot tub at our Memory Maker Caravan.
The ladies chorus from Yours in Harmony who spent an evening entertaining those enjoying a bit of late sunshine at various locations around Torquay harbour side and waterfront to raise money for us.
Finally for this month, thank you to a very special group of young THHN supporters who took part in a triathlon of 2 lengths of the pool, a mile run followed by a 2 mile cycle ride – all in just half an hour! Fantastic stuff from the kids – and the parents.
DID YOU KNOW?
We've decided to get some fundraisers' medals. We have so many people doing a fantastic job raising money for us that we want to reward and inspire them and so we are looking to get some medals made. If we can find a sponsor. So, we are looking for a business who might be interested in doing just that. We plan to have medals for fundraisers who raise over £1000, £3000, £5000 and £10000. These rewards will be something that fundraisers can progressively work towards over a period of time and fundraising events. If you are interested please e-mail Luke@thhn.co.uk or call 01803 325152.
AT-A-GLANCE DIARY
Comments