Posted
Wednesday, 30th September, 2015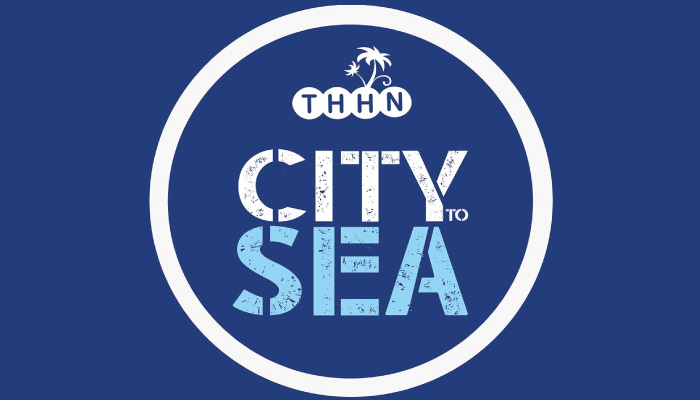 The THHN City To Sea Event an 'Epic' End to a Record Breaking Summer Season. On September 5th, we at THHN rounded off and celebrated our record breaking summer with a very big, ambitious and exciting event. Our first ever City to Sea event and not forgetting the Festival of Fun at the finish line on Babbacombe Downs. It was such a significant and fantastic event that we felt it deserved it's very own special edition newsletter, just ahead of our usual monthly one later this week.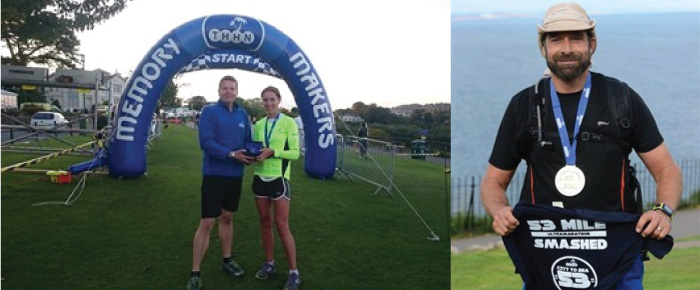 The City to Sea and Festival of Fun
On Saturday 5th September over 200 people made their way to Exeter to run or walk back to Babbacombe via a challenging 23 or 53 mile road and coastal route.
Twenty-nine individuals and two relay teams completed the 53 mile ultra marathon with Jon Dolman from Torquay winning the men's race with a time of 9 hours and 31 minutes and Debbie Burman from Paignton leading the women home at 11 hours and 49 minutes. The winning relay team were Team Lofthouse from Torquay.
Over 150 runners, walkers and relay teams completed the 23 mile route with Peter Belcher from Exeter winning at 3 hours and 19 minutes and Kate Hext, also from Exeter winning for the ladies at 3 hours and 56 minutes. Charley's Angels from Paignton won the relay challenge.
The race finished up at a Festival of Fun on Babbacombe Downs where families were treated to activities and games including live music, princesses, face painting an assault course and a climbing wall. Hungry runners, walkers and race volunteers were treated to free fish and chips from Hanbury's Famous Fish and Chips, Babbacombe.
We are very delighted to announce that so far the event has raised over £14,500 with more sponsorship still coming in.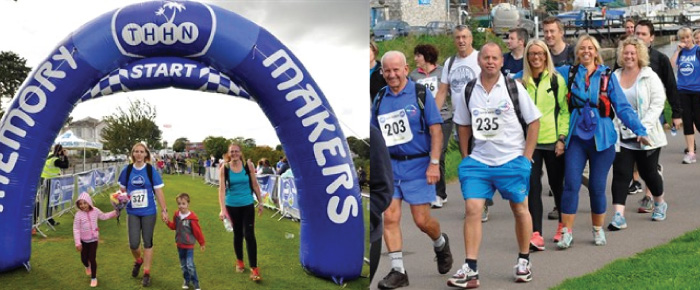 Participant Reviews
The Pennywell City to Sea 23 team said;
"You have the nicest team of volunteers. We were so well looked after from the coach to the finish line. Thanks to all of them."
Debbie Burman, winner of the women's ultra event thanked the THHN team for organising "a great event."
another runner summed the day up as;
"EPIC! Amazing people."
While other competitors said;
"Thank you to all the marshals and the organisers of the event, if all ultras are run like this I'm hooked:) Thanks for making my first one above 50 so much fun, every marshal was amazing."
"WOW WOW WOW what an amazing event. The marshals where great the check points where great fellow runner's where fantastic and as for the finish line atmosphere AWESOME. ..I'll be back next year…cheers Brian and the team."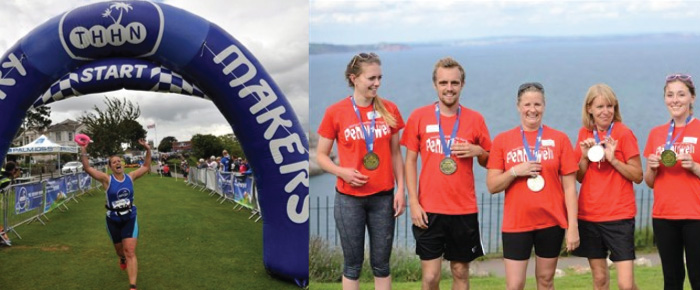 Some Stories of the Day
One fantastic participant sent us a wonderful message to say;
I enjoyed the camaraderie with the other participants and when I crossed the finish line I was amazed with the rousing applause I received from spectators and it made me feel like a celebrity. The whole event seem to be a huge success and on a personal note the full weekend was a giant step forward in my recovery and my confidence and self esteem has grown to new levels so I would like to thank everybody involved in the City to Sea and wish THHN every success with future fundraising events and keep up the good work.
Nico Roa deserves a huge well done all of his own. Nico was the only child to take part in the City to Sea. He walked with his parents, Catherine and Julio and finished at around nine and a half hours.
The family raised over £400 and it's not too late to congratulate Nico by adding to their amazing fundraising efforts here www.virginmoneygiving.com
Some City to Sea Funnies
One of the threads on the City to Sea participants Facebook page was all about funny stories of the day. We thought we'd share a few here.
Our funniest moment was inadvertently running through a wedding during one of our "lost" moments.
On the downhill sections, looking like someone from John Cleese's 'Ministry of Silly Walks.'
Mine included jumping about three feet in the air when a train driver blew his horn right next to me, and suffering a brief moment of indignation when someone referred to me as a "jogger" about 40 miles in (only to start laughing when I realised it could be a lot worse – they could have referred to me as a "walker" by that point!).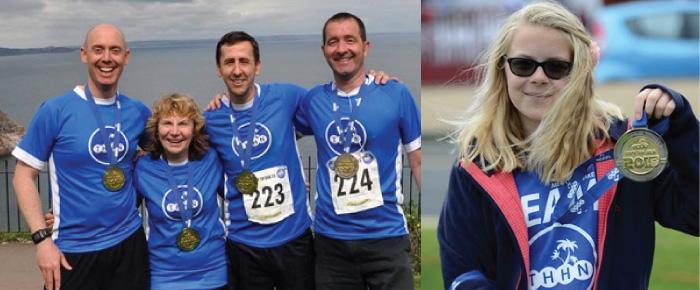 Some notices for participants
Extra T Shirts
If you love your finishers T-shirt so much you miss it when you have to prize it off to wash it, you may be interested to know we have a few City to Sea finishers T Shirts left over from the event, both 53 and 23 mile ones. If anyone would like to buy an extra one or two we are selling them for £5 each, these are only available to finishers of the event and all money comes straight to THHN. Postage is extra if required. Please email cts53@thhn.co.uk if you are interested
Photos
Some amazing photos were taken of the event and can be seen and purchased here.
A percentage of all sales comes to the Charity.
Feedback
Thank-you to everyone who has given us feedback about the event. It was our first ever event of this kind and, as we intend to make it an annual event, we really do welcome any feedback that can help us make it better next year. Please email cts53@thhn.co.uk with any thoughts.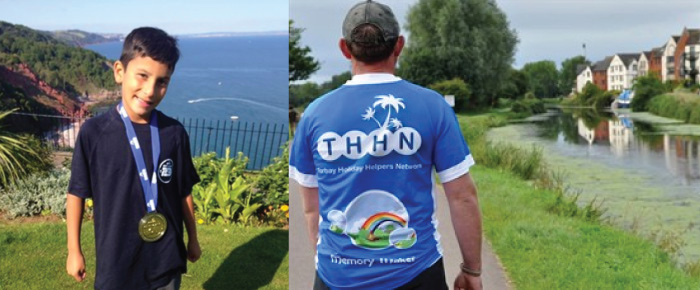 THANK – YOU!
We would like to say a very big THANK YOU to all the volunteers that gave up their Saturday to help us put on the City to Sea. Without them we never could have done it, the feedback we have had about the marshals, check points and all our volunteers has been great to hear.
We would also like to thank everyone who took part in whatever way on the day and a huge thank-you to those who raised extra funds for us. We will give you a total of the money raised in our regular newsletter as soon as we have it finalised so do watch this space.
We would also like to say a very Big Thank you to the following companies who either sponsored, donated goods or offered other services to THHN for the City to Sea.
Pavey Group
Hanburys Famous Fish & Chips
Woodlands
Tesco (Torquay, Newton Abbot & Kingsbridge stores)
Devon Fresh
AB Coaches
Quay Climbing Centre
Our Glass
Riverford Farm
Caterfood
Sainsburys St.Marychurch
Babbacombe Garage
Marine Hotel Paignton
Child Friendly Matters
Brixham Rugby Club
Reach
Rotary Club of Babbacombe and St Marychurch
St Pauls Church Preston
Victoria Hall, Shaldon
Kingskerswell Village Hall
St Marys Church Hall, Dawlish Warren
Some words from Luke Tillen, THHN Founder and Managing Director;
I have never witnessed a vibe and feeling like September 5th 2015 in my entire life……….that was a phenomenon!"
As founder and managing director of THHN I would just like to say a huge and heartfelt thank you to each and every one of you, who took part in our inaugural City to Sea event this Saturday. It was a landmark day for our charity and you all helped to make it the huge success that it was, so please accept my sincere thanks.
Life is short, life is precious, live, love and enjoy.
City to Sea 53 and Marathon 2016!
We are pleased to announce the City to Sea will be back on Saturday 3rd September 2016. This time it will be even more challenging with an extra 3 miles on the 23 mile, making it a full marathon. The ultra will also return bigger and better.
Last words
We'll leave the last words to one of the participants;
"One word… EPIC. Amazing people x"
AT-A-GLANCE DIARY
Comments