Posted
Sunday, 1st June, 2014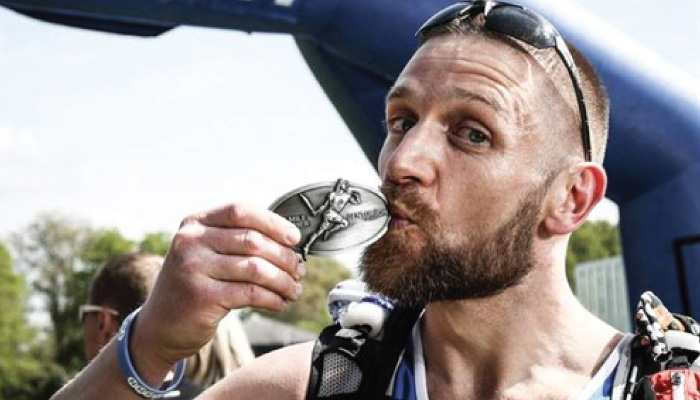 What a lovely way to end the month – we've just had a fantastic weekend at Miss Ivy's Revival at Cockington. We met lots of lovely people and had fun and games galore. We've got an array of super, summer events coming up in June which we're sure you'll enjoy and, even better, they're raising money for us.We hope you'll all be able to get along to one or two and we look forward to seeing you there.
NEWS
Luke's 100 mile run
The month was started in pretty energetic style by Luke who took part in the epic Thames Path 100 race. In a mere 25 hours and 22 minutes Luke ran from London to Oxford along the Thames path. Wow. Huge thanks must go to Centurion Running for organising the event. The excellent crew who supported Luke on his run included Luke's mum and dad, Helen and John Tillen, Jane and Arthur Christian and Anne and Pete Prior. Luke says he would have been lost without Matthew Day and Stephen Lofthouse of Torbay Athletics Club who took it in turns to pace him throughout the race. And, of course, a very big thank you to everyone who sponsored Luke.
Super Sunday
Who remembers Super Saturday at the London 2012 Olympics? Medals, cheering, spectacular achievements – you know how it went. Well, one Sunday in May we had a pretty Super day ourselves. How about this…..
Our fabulous Riviera to Riviera cyclists, Mark Mallen and Chris Halls, arrived in Nice completing their 700 mile cycle.
Yasemin Keskin crossed the finishing line of her amazing 100km walk from London to Brighton.
Our fab friends at Winners 2000 held a football tournament to raise funds for us.
As if all that wasn't super enough, a team of runners ran a coastal half marathon well and truly flying the THHN flag. A Super Sunday indeed we think you'll agree.
Torbay Half Marathon
The Torbay Half Marathon takes place on Sunday 29 June, starting on Paignton Esplanade. Team THHN will be there, running, cheering, helping out and generally enjoying themselves. Fancy taking part? There are places in the half marathon itself or why not think about taking part in the Fun Run, ideal for all the family? Same date, starting at 9am it's a lap of Paignton Green which is just over a mile.
This really is a lovely, local event and if anyone would like any more information about how to take part or help team THHN please get in touch with us at fundraising@thhn.co.uk or take a look at the event website at www.torbayhalfmarathon.co.uk
We are in great need of volunteers to help marshal the event, the race organisers will donate £500 to THHN if we provide 20 volunteers. If you can help please email rebecca@thhn.co.uk
Charity Gala Evening at Hennessey's
There's a spectacular evening planned at Hennessey's restaurant in Torquay on Friday 13 June, all to raise money for us. There's live entertainment all evening from acts including Anais Hay, Hannah Williams, live band and DJ Badja. There will be a casino table, close hand magic, delicious canapés and nibbles and an auction of fantastic lots. Tickets to come along and enjoy all that the evening has to offer, with your welcome glass of Prosecco in your hand, are just £20 per person and the dress code is black tie and ball gowns. For more information ask at the restaurant or call Emily on 07712 443477.
Climbing for Cash
On Saturday 19th July, at the Boulder Bunker in Torquay, teams of climbers will be aiming to climb around the walls of the Boulder Bunker as if they were climbing from Berry Head to Ansteys Cove, which is around 12 miles. Does that sound like your cup of tea? We think it's a great idea. Anyone interested in taking part please contact the Boulder Bunker. Phone 01803 293229 or e-mail theboulderbunker@yahoo.com
Hanbury's Fish and Chips on the Downs
On Sunday 22 June it's fabulous fish and chip fundraising time again at Hanbury's Fish and Chips on the Downs in the spectacular Babbacombe Festival Marquee on Babbacombe Downs. With incredible live music from midday until late you'll need tickets for the event this year and they are on sale now from Hanbury's in Princes Street. The ticket price will include admission to the Marquee as well as Festival fish and chips from Hanbury's (available between midday and 6pm). Tickets are £10 for adults and £6 for children (aged 3-10). For more information visit www.babbacombefestival.com and www.hanburys.net 01803 314616 or email brian@thhn.co.uk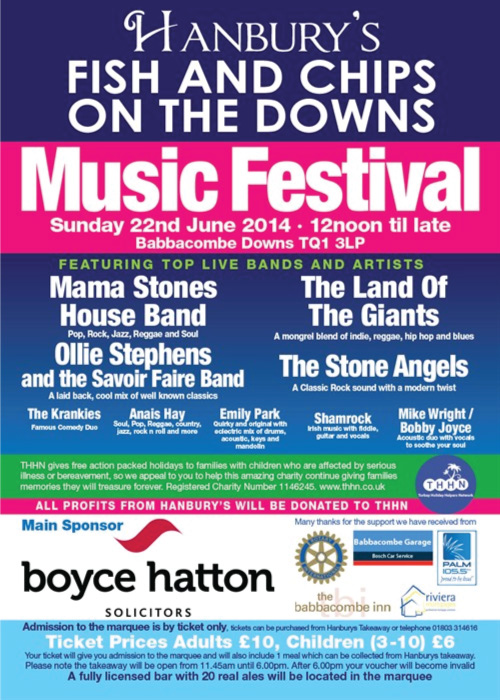 Volunteers
We are in great need for volunteers at the following events:
Babbacombe Rotary Fayre – Wednesday 18 June
Hanbury's Music Festival – Sunday 22 June
Torbay Half Marathon – Sunday 29 June
We are also looking for volunteers and businesses to sell our amazing raffle tickets, they are just £1 each, with a top prize of £500 and a weekend break in London's 4* Cavendish Hotel, including train tickets! The draw will be made on the 22nd June at the Hunbury's Music Festival.
If you can help with any of the above please email brian@thhn.co.uk
DATES FOR THE DIARY
Charity Gala Evening, Hennessey – Friday 13 June
Babbacombe Rotary Fayre – Wednesday 18 June
Hanbury's Music Festival – Sunday 22 June
Torbay Half Marathon – Sunday 29 June
Boulder Bunker – Saturday 19 July
Wigfest – 1 August to 4 August
SPECIAL THANKS TO:
The Memory Maker Caravan and Finlake Holiday Park who hosted families referred by the Bath CLIC Sargent team, the CLIC Sargent team at Birmingham Children's Hospital and the Cambridge CLIC Sargent team,
Claire's Cakes, Riverford Home Delivery South Hams, D&H Fisheries, Save on Meats Torquay, Total Produce Devon, Teddy's Cakes, Halletts the Bakers and Over the Rainbow Cake Design for the array of goodies they all so generously give our holidaymakers.
Vomero Holiday Apartments in Torquay who gave a holiday to a family referred by the CLIC Sargent team at the Royal Marsden Hospital in London.
The Level 3 Business Studies students at South Devon College who raised £288.23 for us with various activities including filling a car with balloons and asking people to pay to guess how many were in there. Where do all these ideas come from?!
Hotel De La Mer who welcomed a family referred by the Rainbow Trust Children's Charity.
Pro Performance Torbay who are running a pounds for pounds fundraising scheme. They are encouraging people to go and be weighed and then be sponsored for every pound that they lose until the end of July. If you want to find out more pop in to their shop at 300A Torquay Road, Paignton.
All Saints Primary School who had a fun mufti day to raise funds for us.
Buckfast Abbey who welcomed a family referred by the Plymouth CLIC Sargent team into their self-catering holiday home.
The Marine Hotel who gave a holiday to a family referred by Shooting Starchase Children's Hospice.
The Torbay Cornish Association who had THHN Trustee and Director, Martin Brook, as their lunchtime speaker and who donated £150.
Miss Ivy for inviting us to be part of their incredible Cockington Revival weekend, we really cannot thank them enough! A big thank you too, to Kathy Fox, vintage make up artist, who donated half of her takings at Cockington on Saturday at the Miss Ivy's Revival event.
DID YOU KNOW?
May saw us provide our 400th holiday. Thank you to all of you who help us in any way at all. As we fast approach the fifth anniversary of the THHN and look back on the past five years we are constantly amazed at what's been achieved by so many people working together.
AT-A-GLANCE DIARY
Comments