Posted
Monday, 19th June, 2017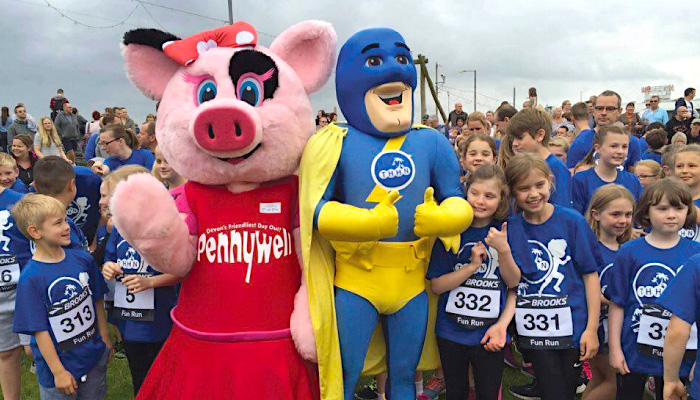 We've included a couple of shout-outs for you this month, calling for marshals for the City to Sea Ultra and Marathon on 3 September, and acts and other attractions to make our Festival of Fun go with a swing on the same day. But, as you will see from this month's newsletter, there are plenty of other ways to support THHN and be part of our amazing memory-making machine. We can't do it without you, so once again a massive thank you to everyone who gives their time, their energy and their money to our charity.
Your charity needs you #1
Entries are filling up fast for the City to Sea Ultra and Marathon on 3 September. you can run or walk the marathon.
To date the City to Sea events have raised over £ 40,000 for THHN and it is thanks to the fantastic volunteers who help at the event, that we are able to put it on each year. We are now on the lookout for some fabulous volunteers to marshal along the route at this year's City to Sea. If you fancy being a part of it please get in touch with Helen, our volunteer marshal coordinator, by email – helen@thhn.co.uk – with your preference for where you would like to be based on the day and what times you are able to help.
There are a variety of marshal locations with timings throughout the day:
Exeter to Powderham
Powderham to Shaldon
Watcombe
Petitor to the finish at Babbacombe Downs
Come and join us on this fantastic day of fun to support the charity and help raise money for THHN.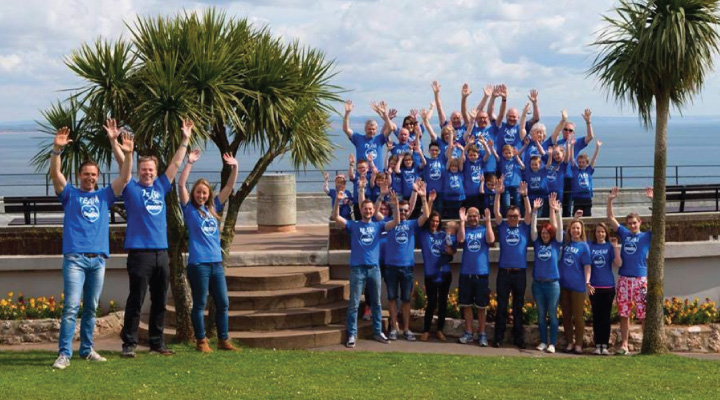 Your charity needs you #2
On the same day THHN will be hosting the Festival of Fun 2017 at the City to Sea finish line on Babbacombe Downs. We're looking for:
Music Acts – can you help THHN make the live music stage rock all day long by performing for free?
Performance displays – are you part of a group that can put on a 15-20 minute display at the event? Dance Schools, gyms, martial arts, majorettes. football skills and more – if you've got it, we'd love you to flaunt it at the Festival of Fun.
Stalls, games and attraction – would you like a pitch?
Please email brian@thhn.co.uk with your details.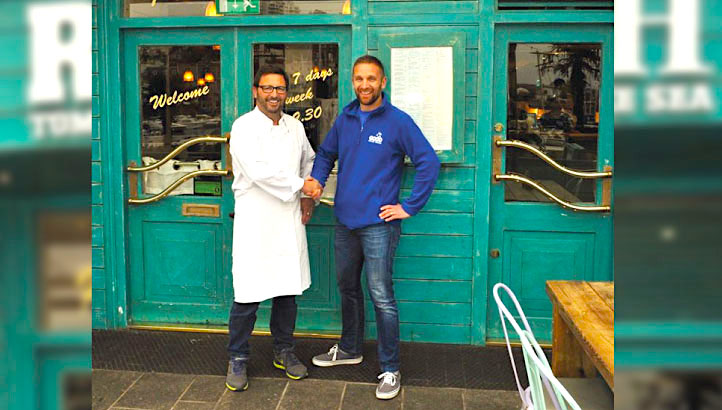 Rockfish rocks!
Celebrity chef Mitch Tonks has chosen THHN as his Rockfish Torquay restaurant's charity of the year – for the third year running.
A voluntary £ 1 donation is added to each bill and that money goes directly to the charity. Luke Tillen, THHN's founder and managing director, said: "We are thrilled to have been chosen by Rockfish to be their local charity. To have support from such a prestigious and well-known chef and restaurant will not only help us raise money but also help spread the word about the work that we do, which is just as important. I'm incredibly grateful to Mitch and the team. I can highly recommend the fish and chips as well!"
Mitch Tonks said: "I have always felt for families who have to go through such tragic and difficult times, and to know there are people like THNN who dedicate their own personal time to helping and sprinkling a bit of magic back into the lives of people I think is just so wonderfully human. It's a brilliant charity and I love the work they do."
Run a mile to make memories
The fantastic THHN Memory Maker Fun Run, sponsored by Pennywell Farm, on Sunday 25 June is fast approaching. There's still time to enter this one-mile run on closed roads around the first mile of the Torbay Half Marathon course on Paignton Green and it's open to all ages. Participants receive a THHN Fun Run Medal.
Entry is just £ 5 per person. Enter online at www.thhn.co.uk/funrun or enter on the day between 8am and 9am.
Local kids take up schools challenge
We are delighted that over 540 schoolchildren are lined up to take part in the culmination of the THHN Schools Challenge at the Torbay Half Marathon this Sunday, 25 June. The children have been running one mile a week at school for 12 weeks, and on Sunday they will run the final mile around Paignton Green at the Torbay Half Marathon to complete their own half marathon.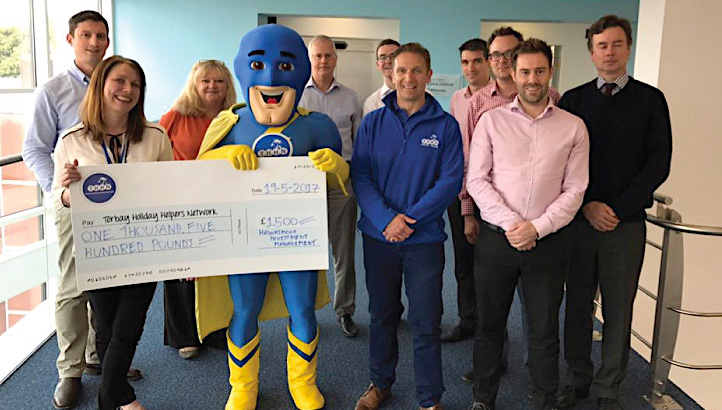 Hawksmoor invest in memory-making holidays
Tor Park Hotel general manager Aneta Edge came along to THHN recently and presented THHN fundraising manager Brian Lewis with a cheque for an amazing £ 1,000, raised through raffles at the Torquay hotel.
A huge heartfelt thank you to everyone from Hawksmoor Investment Management in Exeter, who presented Memory Maker Man and THHN founder Luke Tillen with a whopping cheque for £ 1,500. The donation came after the firm made THHN their charity of the year. Two fund managers also ran the THHN City to Sea Ultra last year, raising a further £ 5,000 for the charity.
A big welcome to Hawksmoor as they join our merry team of Memory Makers.
Sign up for the City to Sea
Still hesitating about joining us on Sunday 3 September for the THHN City to Sea Marathon or Ultramarathon? Hurry up – fewer than half the event places are left.
You can walk or run the marathon. You can enter the marathon or ultra as a relay team. Whatever you decide, you can find out more and enter at www.thhn.co.uk/cts.
HOLIDAY NEWS
In May, another busy month for THHN, we welcomed families to our Memory Maker caravan, the Clifton at Paignton and Crealy Great Adventure Park and Resort.
Once again, we want to express our gratitude to our volunteers and supporters, and to our incredibly generous business supporters. These include Project Linus, Halletts the Bakers, R D Johns, Riverford, Teddy Mountain, Kayleigh's Creations, Claire's Cakes, Luscombes Butchers and West Country Fruit Sales Ltd, who donated wonderful gifts and food to fill hampers for the families to enjoy.
AT-A-GLANCE DIARY
Comments