Posted
Saturday, 20th May, 2017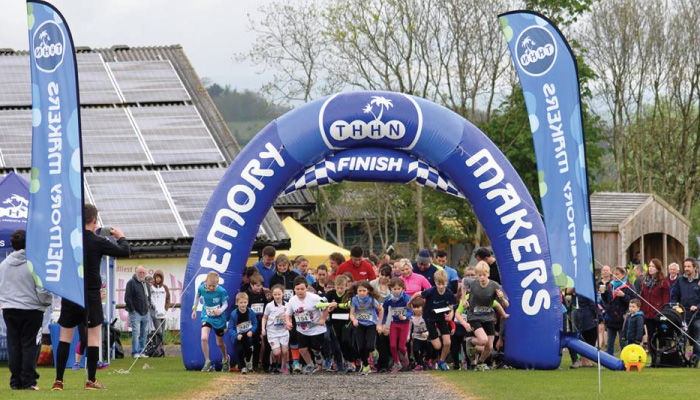 A lot of our news in April focuses on running. We have fundraisers running marathons and half marathons for THHN, and of course we have our very own Memory Maker Fun Run on 25 June and our City to Sea Marathon on 3 September. And we are continually touched and amazed by how active and resourceful our supporters are. Read about some of those amazing people below. They are THHN's money makers and memory makers, creating the chance for families living with serious illness and bereavement, to enjoy a happy holiday.
Setting the pace at Pennywell
The first ever Pennywell Pursuit 10K Trail Race and 1-mile Fun Run took place on Sunday, 30 April. Starting and finishing at Pennywell Farm, Buckfastleigh and raising money for THHN, the event was a sell-out. Participants came away with a beautiful piggy medal, big smiles – and muddy feet, thanks to the wet conditions! A big thank you to Pennywell Farm for joining forces with THHN for this awesome evening. Thank you too to everyone who took part – the marshals, sponsors and THHN volunteers. You are all memory makers.
Moving mountains
On 6 April the staff of Yates, Torquay set themselves a steep challenge – climbing a set of stairs inside the bar over and over again until they had scaled the equivalent height of Mount Everest. And all in aid of THHN.
David from Yates in Torquay said, " Our goal is to raise as much money for Torbay Holiday Helpers Network as possible! They do such an awesome job in and around the bay. We think they deserve every penny we can give them!"
The THHN team would like to say a massive thank you to all the staff and management of Yates for making more than 4,000 ascents of those stairs!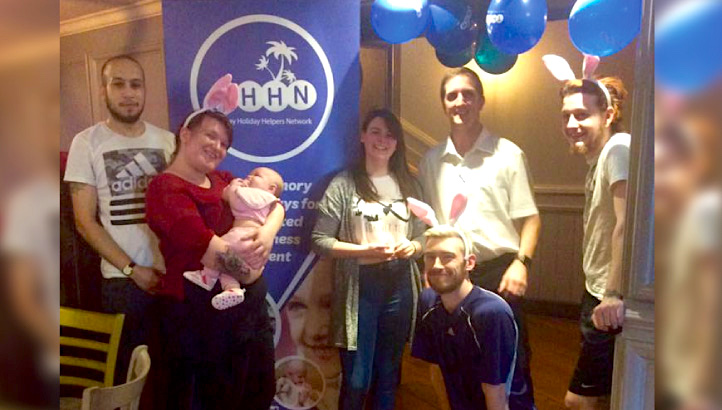 Running for THHN #1
April was marathon month for THHN. Mark Tucker ran the iconic London Marathon raising money for THHN and proudly wearing his THHN running vest for his first ever marathon. Meanwhile, the same day, Team THHN runners tackled the Plymouth Ocean City Half Marathon. Well done, all of you!
Running for THHN #2
September is very definitely marathon month too. This time it's THHN's own City to Sea Marathon on 3 September. And, remember, if you don't fancy running it, you can walk the distance instead.
The event starts at Exeter Riverside and finishes at Babbacombe Downs, Torquay, taking in riverside paths, country lanes, the famous sea wall at Dawlish and Teignmouth, woodlands, coastal paths, cliff tops and much much more on this fully signed and marshalled route. There will be two fully stocked checkpoints and two extra water stops this year.
Participants will also get a fantastic finisher's medal, T-shirt and free fish and chips from Hanbury's Famous Fish and Chips. And there will be a fabulous family fun day at the finish line with live music, stalls, games, food and more. Enter today at www.thhn.co.uk
Running for THHN #3
The fantastic THHN Memory Maker Fun Run is on Sunday, 25June.
This 1-mile fun run is on closed roads around the first mile of the Torbay Half Marathon course, in front of all the spectators watching the Half Marathon. It is open to all ages and all participants receive a THHN Fun Run Medal.
Entry is just £5 per person. Enter online at www.thhn.co.uk or on the day between 8am and 9am. All money raised from this event, sponsored by Pennywell Farm, will go towards THHN.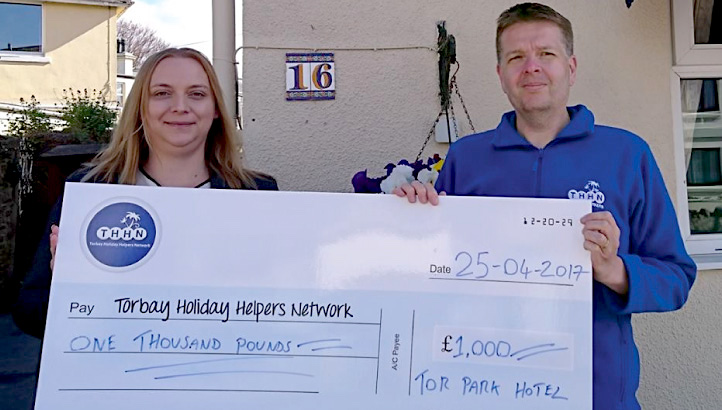 Money-raising raffles
Tor Park Hotel general manager Aneta Edge came along to THHN recently and presented THHN fundraising manager Brian Lewis with a cheque for an amazing £1,000, raised through raffles at the Torquay hotel.
Aneta has already helped THHN personally by taking part in the THHN City to Sea Marathon in 2016. She has already signed up to take part in this year's event.
Brian Lewis said, "We cannot thank the amazing team at the Tor Park Hotel enough for their amazing fundraising. The money will go directly towards helping provide even more very special memory-making holidays for families who are living with serious illness or bereavement."
HOLIDAY NEWS
April was a very busy month for memory-making holidays. THHN welcomed families to our Memory Maker Caravan, Hotel De La Mer, the Marine Hotel, Paignton and Pilgrims Rest Cottages, Torquay.
We had some fantastic feedback from our guests, which really confirms for us that what THHN is doing is truly worthwhile.
Kathryn Rees said: "Thank you THHN for organising a fab few days at the Hotel De La Mer for us. We had a lovely time & were looked after so well. The boys are going to wonder where their 3-course dinner is tonight!! We were spoilt with amazing weather and a big thank you to all your partners who helped to make our trip special – Hanbury's, Cliff Railway Cafe, Babbacombe Model Village and Kent Caverns. We enjoyed everything & it feels like a lifetime ago that we spent the day at hospital even though it was only Monday!"
Meanwhile, Phoebe Lewis wrote to say: "A big thanks is owed to THHN for making these activities possible for our family and we have enjoyed ourselves so much and I don't think there are any words to describe how grateful we all are!"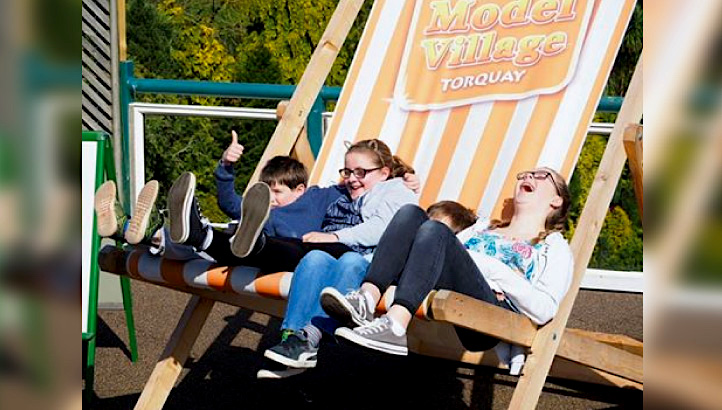 And Paul Lewis summed up the family's break brilliantly: "We have eaten, laughed, eaten, adventured, eaten, played, eaten, played some more!"
We really can't thank everyone involved enough, from our volunteers and supporters, to our incredibly generous business supporters, including Teddy Mountain, Project Linus, Halletts the Bakers, Luscombes Butchers of Torquay, Riverford, D&H Fisheries of St Marychurch Precinct, Torquay, Kate Daisy Cakes and Claire's Cakes, who regularly donate wonderful gifts and food hampers for the families to enjoy!
Thank you too to the many Torbay attractions who offer such fantastic treats to THHN families, among them Angel's Tea Rooms, Vue Cinema, Cliff Tea Room, Buccaneers/Jungle Crazy Golf, Woodlands and the Royal at Babbacombe, which were all singled out by our guests last month.
AT-A-GLANCE DIARY
Comments