Posted
Monday, 12th October, 2015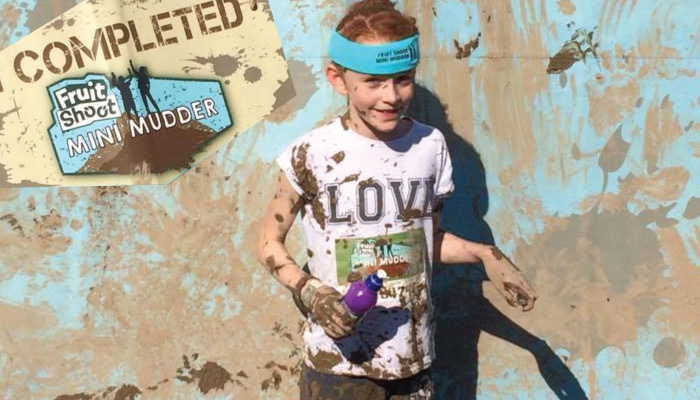 WOW, what a month September has been! Of course, the big news was our inaugural City to Sea 53 event on September 5th and the Festival of Fun at its finish on Babbacombe Downs. But there has been lots more going on too.
The City To Sea and Festival of Fun
On Saturday 5th September over 200 people made their way to Exeter to run or walk back to Babbacombe via a challenging 23 or 53 mile road and coastal route. The full story and photos from the day can be found in a special edition of our newsletter here.
So far, the event's have raised over £14,500 for the Charity and sponsorship money is still coming in. Our heartfelt thanks go to everyone who competed, who helped on the day, who sponsored an aspect of the event, who sponsored participants or who took part in any way at all. It was an incredible day and it will be back on Saturday 3rd September 2016 with a 53 mile ultra marathon route and a full marathon replacing the 23 mile route.
A big thank you to the team from Child Friendly Matters who attended our Festival of Fun and kept the kids entertained with crafting and face painting. Not only did they provide lots of fun and smiles but they raised a fantastic £201.75 for us on the day.
Are you inspired by our runners?
If you are inspired by the runners who took part in the City to Sea events you may be interested to know that we have just started a new intake in our Run THHN beginners running club. The club is led by our Fundraising Manager and qualified coach Brian Lewis. The club is a great way to introduce yourself to running and get you off the sofa! It's not too late to join. For more details email: brian@thhn.co.uk or join the Facebook group
Tough Mother and Daughters
A huge thank-you to Stacie Whitehead who completed the Tough Mudder to raise money for THHN on September 27th. Stacie ran a gruelling 12.5 miles with 20 obstacles, including electrocution, ice baths, tunnels, mud, huge walls, mud and more mud!! Inspired by their mum, Taylor Jade (aged 10) and Imogen (7) joined in with the Mini Mudder to help raise more funds. So far they have raised a fantastic £230. You can add to their sponsorship at www.justgiving.com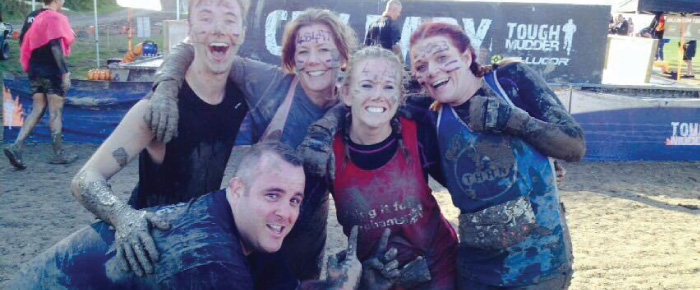 Ollie's 30 Mile Challenge
Last month we caught up with Ollie Hill who had taken on an amazing fundraising challenge. Ollie decided he was going to raise sponsorship by running 30 miles in the school holidays, he originally was planning to run just one mile at a time, but was enjoying it so much, that on the last couple of runs he ran 4 miles each time. He has now finished his miles and he aised a fantastic £218 in the process. Memory Maker flew in to our THHN Memory Makers Children's Charity Shop to meet Ollie, receive his cheque an present him with a fundraising medal.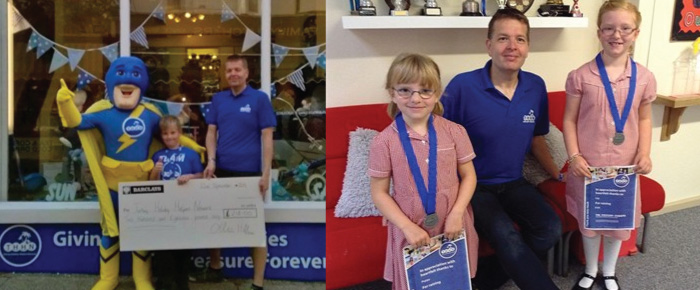 Lily and Poppy Cycle Challenge
Another update on a story from last month, Lily and Poppy completed their cycling challenge, with Lily cycling 100 miles and Poppy 50 mils, together they raised £184. Our Fundraising Manager Brian went to Warberry Primary school to give a talk about THHN to the school assembly and after being presented with a cheque from the girls, he gave them a fundraising certificate and medal each.
Dan's Lands End to John O'Groats Challenge
A huge heartfelt THHN thank you to the amazing Dan Tisdall, who completed the gruelling cycle ride from Lands End to John O'Groats. Dan completed the 960 mile cycle in 9 days, covering 23 counties and cycling for 10 hours a day. Dan said of his epic journey "This was a truly amazing experience raising money for a brilliant charity. " Dan has raised over £1,720 and you can sponsor him by following this link.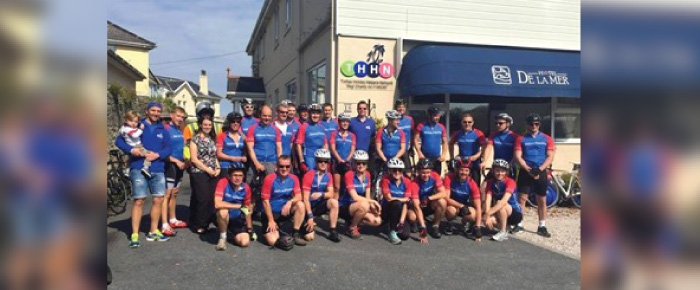 The Cycling Accountants
Another huge bike challenge took place in September. Staff from Bishop Fleming Chartered Accountants offices embarked on their challenge, during September which saw them cycling between their various offices, a distance of 325 miles in total. The Torquay office very kindly chose THHN as their charity and, so far, have raised over £2,600 for us.
Pharmacy Charity Day
A huge thank you to all the lovely staff at Day Lewis Pharmacy in Wellswood, Torquay, who presented THHN founder Luke Tillen with a cheque for £646.00 from a charity day held in their store.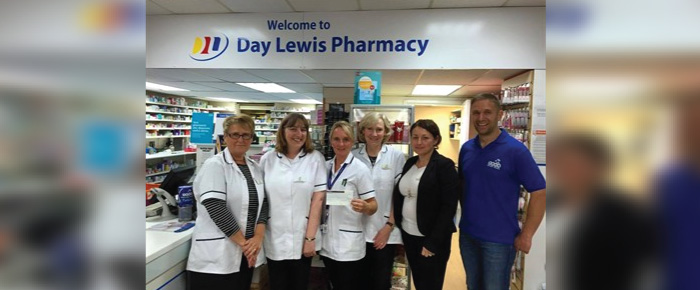 Were You a Winner?
Thank you to all those that entered our Prize Raffle, the top three tickets were drawn by an independent person. We are pleased to announce the winning tickets for the top three prizes.
1st Prize £750 Ticket 30490
2nd Prize Weekend Break in London Ticket 31047
3rd Prize Two Night Hotel Break Ticket 31206
A big thank you to Babbacombe Garage, Cavendish Hotel in London, Bay Hotels and First Great Western.
Our Palm FM Local Hero
Well, he's a hero for everyone who has been touched in anyway by THHN already but it's lovely to see him recognised as such. On Saturday 19th September, THHN Founder and Director, Luke Tillen, was presented with the Palm FM Local Hero – Most Influential Male/Female Award.
Very apt when Luke has persuaded and inspired so many individuals, groups and businesses to contribute to his vision to help families affected by serious illness and bereavement by giving them a free fun filled holiday, so they can gain some memories to treasure forever.
Luke writes;
"Last Saturday evening I had the huge honour of being presented with the Palm FM Local Hero – Most Influential Male/Female 2015 Award! I always feel very awkward and embarrassed when receiving praise, as it is not why I do what I do. THHN would not exist without an army of incredibly passionate people and businesses, supporting and driving it forward, to help provide as many families as possible affected by serious illness and bereavement, with free fun filled memory making holidays! So this is as much for you as it is for me – a huge heartfelt thank you to each and every one of you!
I am truly humbled and honoured to be likened to all of the amazing finalists at the event – incredible people, every single one of them! A big thank you to Anais Thorn for nominating me and to all of you who took the time to vote. Finally a huge thank you to the Palm team for their super generosity and hospitality, in providing an inspirational event.
A big thank you to all involved, your hard work will help us help more families affected by serious illness and bereavement, with free fun filled memory making holidays! So this is as much for you as it is for me – a huge heartfelt thank you to each and every one of you!"
Holiday News
This month we have welcomed families to stay with our good friends at Vomero Holiday Apartments in Torquay, Pilgrims Rest Holiday Cottages and our Memory Maker Caravan in Chudleigh. Both families were referred from the Rainbow Trust Children's Charity. Our huge thanks go to the owners of these resorts, as well as all our hotel and accommodation owners who have donated holidays this summer season.
A huge thank you to our business supporters Halletts the Bakers, Riverford Home Delivery, Claire's Cakes, Westcountry Fruit Sales, Luscombes Butchers of Torbay and Teddy Mountain UK, who have all donated super food hampers and gifts for the families to enjoy and, as always, to every single business who donates elements of the holiday.
Do you drink Tassimo?
Our fiends at Terracycle are collecting empty Tassimo pods for recycling and can get money back us as their nominated charity. They have already collected over £120 and need a last push before the end of October and see if we can increase this total. Just drop off your empty pods at the shop (counted if you have the time). See www.terracycle.co.uk for more information.
AT-A-GLANCE DIARY
Comments