Posted
Tuesday, 11th October, 2016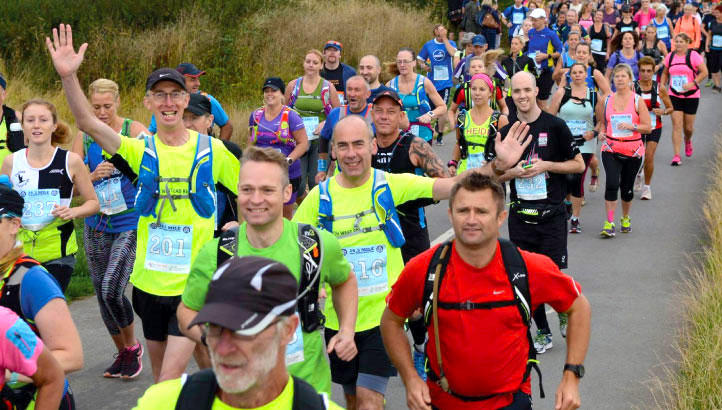 Summer in Torbay is always full on but, wow, THHN has had a busy couple of months! From the large number of lovely families we've welcomed on special memory-making holidays, to fundraising events like Celebrating Devon Film Day, the Civic Garden Party and, of course, our very own City to Sea Marathon and Ultramarathon, it's fair to say it's been a whirlwind! And we've also been planning some fantastic new fundraising events for the next few months with the aim of raising even more money to finance breaks for families living with serious illness and bereavement. Please check our At-A-Glance Diary for more details.
In loving memory
Grieving parents Andrew Campion and Carol Newton from Bishop Auckland in County Durham have laid a plaque at the Marine Hotel, Paignton in memory of their six-year-old son Mason who enjoyed three THHN holidays in Torbay before succumbing to an inoperable brain tumour in June.
"It meant the world to us to have those family breaks to take our minds off what was happening,"
said Andrew Campion. "We've made the most special memories there that we will never forget. Mason went on the train to Dartmouth, he went on boats, he loved the beach, he loved the pier in Paignton. Everyone was so friendly that it made us feel really special and made Mason feel really special. It was fantastic and I know it actually helped. It's amazing what THHN has done for us and what they do for other families who are going through really difficult times."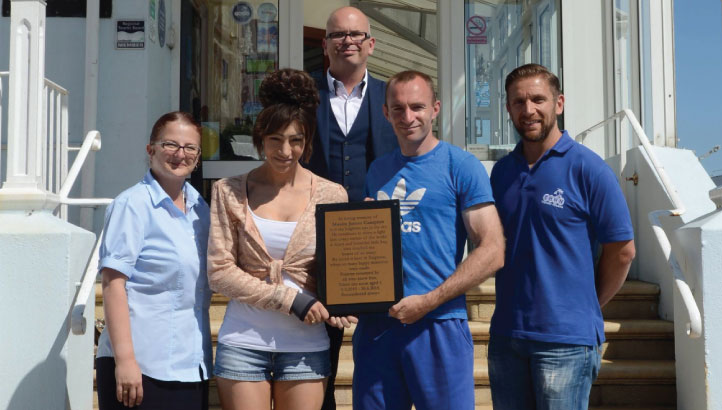 The news of Mason's death has touched us deeply at THHN, who remember what a delightful boy he was. But to know that THHN was able to help both him and his family enjoy some time together in spite of the gravity of his illness is hugely gratifying.
City to Sea success
This year's THHN City to Sea Marathon and Ultramarathon which was held on 3 September was dedicated to the memory of little Mason Campion, and his parents Andrew and Carol started the race.
In spite of poor weather, the event itself and THHN's Festival of Fun held at the finish line on Babbacombe Downs were a triumph. Jonathon Dolman retained his crown in the 55-mile ultra and Roy Brown won the marathon. In both races a woman took second place – Annika Longthorpe in the ultra and Elizabeth Dyson in the marathon. Amazingly well done to all those who took part, whether running or walking.
So far we have raised over £20,000 with money still coming in. A huge vote of thanks to our sponsors – Hanburys Famous Fish & Chips, The Cotswold Group, Westcountry Fruit Sales, Tesco (Babbacombe, Newton Abbot and Kingsbridge stores), Our Glass Cockington, GB Medal Display Boards, Riviera Insurance Services Ltd, Francis Clark, With a Difference Entertainments, The Breeze Devon and Babbacombe Garage – and everyone who worked so hard to make it happen. This is the key event in THHN's calendar and we couldn't do it without you. Roll on City and Sea 2017!
Cutting the ribbon
THHN founder Luke Tillen officially opened the new offices of John Lake Estate Agents in St Marychurch, just days after a four-strong team from the firm had successfully completed the City to Sea Marathon. THHN really appreciates their fantastic support.
Doolan does it!
Personal trainer James Doolan has more than proved the old adage, no pain no gain by raising an amazing £350 for THHN through his 100 for 10 challenge. Over ten days he urged his supporters to vote for the exercise they'd like him to do that day – and then performed 100 repetitions. At the same time, he asked people to sponsor him on a JustGiving page. Great work and big thanks, James!
Born to run?
On 21 August Team THHN runners flew the colours at the Torbay Royal Regatta 10k. A huge thank you to them. Interested in what they do and in running yourself? THHN has its own runners' forum on Facebook. And did you know that if you raise funds for THHN, in a running event, you can claim a free THHN running vest or t-shirt? So to any runners out there, we'd love to welcome you to our team! We have charity places on the Cockington Caper and the Torbay Half Marathon.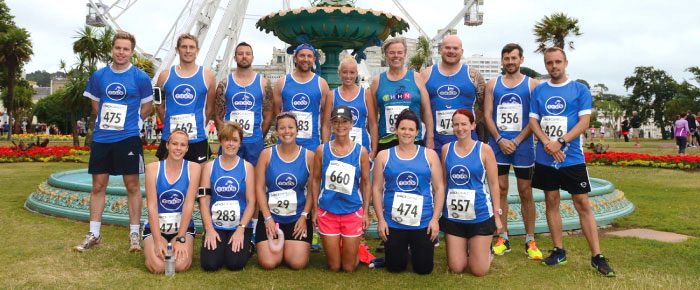 The Vikings are coming!
In fact, they've been and come back! Dudley Rae, who is visually impaired after suffering two brain tumours, set up the organisation Viking Warriors with the aim of raising money for charity. He set himself the challenge of navigating a car across Europe from Torquay to Prague and back to raise money for THHN and another charity. Here's his reaction on getting home: "WOW WOW Not sure quite how!! But I have!! I've managed to navigate Josh (friend/driver) through 12 countries over seven days totalling a staggering 3,283.6 miles being registered blind." We're in totally awe of you, Dudley!
Walking the talk
Big kudos to Gareth Thomas who tackled a 100km walk to raise money for THHN. Unfortunately, he had to pull out when he slipped and twisted his knee, but he still managed to raise more than £500 for the charity. That is a fantastic achievement, so thank you Gareth and hope the knee's better!
Brian blows them away at Breeze Awards
Our very own fundraising manager Brian Lewis took Fundraiser of the Year Award in The Breeze Local Hero Awards. We are delighted that his hard work and dedication have been recognised. Well done, Brian – we are so proud of you!
Raffle winners
The top three winning tickets in the THHN 2016 Grand Raffle were:
1st Prize: 2 night stay at the 5 Star Chiltern Firehouse in London Ticket Number 32592
2nd Prize: £500 Cash Ticket Number 30769
3rd Prize: Weekend Break at a Coast & Country or Bay Hotel Ticket Number 30327
A massive Thank You to Chiltern Firehouse, Babbacombe Garage, Shearings, Great Western Railway, The Buccaneer Inn and the other businesses that donated a prize.
HOLIDAY NEWS
It's been an extremely busy time for memory-making hoildays, with THHN welcoming a dozen families to Torbay in August alone. They stayed at THHN's Memory Maker Caravan at Finlake Holiday Park, Chudleigh; The Cliffs Babbacombe; Hotel De La Mer, Babbacombe; Glendower B&B; Hannah's at Seale Hayne, Newton Abbot; Brunel Manor; the Marine Hotel, Paignton.
Here's some wonderful feedback from the Kemish Family:
"We really are so grateful to you all at THHN for giving us an amazing time away. Since Mckenzie was diagnosed nearly four years ago, we haven't travelled further than an hour away from home, so it was nothing short of amazing being able to go to different places and make some precious memories we will treasure forever."
AT-A-GLANCE DIARY
Comments