Posted
Sunday, 1st September, 2013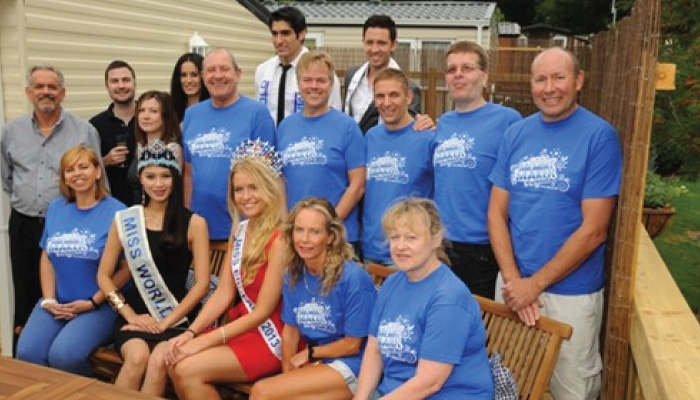 Welcome to the September 2013 THHN Newsletter! We hope you all had a great August. We did. it really was an incredible month for the THHN and here's why……
NEWS
Holiday Caravan
Our big news is that we're now the extremely proud owners of a luxury caravan at the gorgeous Finlake Holiday Park. The keys were given to us on Friday 9 August at a special event held at Finlake with Miss England, Mr England, Miss World, Mr World and a host of special guests who had all helped make this happen. We are so delighted with the caravan. It's beautifully furnished and Finlake Holiday Park is the perfect location. It offers peace and tranquillity as well as all sorts of on-site activities should our families wish to make use of them. It's also well located for families who fancy a day out to visit some of the attractions which make up part of our Network. In fact a family referred to us by the Rainbow Trust Children's Charity have now holidayed at the caravan so it's already been put to excellent use.
As lots of you know we could give so many more holidays if only we had more accommodation providers. This is such a great step towards achieving that as we can offer holidays at our caravan throughout the year.
As usual, this is a story that involves many people, especially the wonderful Miss England "Beauty with a Purpose" charity set up by Miss World organiser, Julia Morley. The money they raised during the Miss England competition this year is what has paid for our caravan. We'd like to thank all those involved in the Miss England event. Babbacombe Model Village have helped out yet again by donating £500 to have floral tubs and baskets around the caravan. Teign Renewables generously fitted all the outdoor lighting for us free of charge. City Electrical Factors of Torquay provided the lighting and we'd like to thank Harris Leisure Pools, Laura Hingston Flowers and Riviera Decking for all their help in sorting out the vital finishing touches. Do go and have a look at the galleries of photos we've got up on Facebook and you'll see just how great the caravan is. You'll also get to see plenty of pics of all the terrific THHN team posing very happily with Miss World and Miss England! Special mention must go to Luke's wife, Suzanne, who is responsible for all the lovely interior decoration and addition of all sorts of little extras to make it a home from home, as well as Jane Christian who made some gorgeous outdoor bunting and seat cushions plus the curtain to unveil our plaque.
Finally, our thanks go to all those at Finlake who helped us get the project finished and who will be there to help our families enjoy their holidays. Roya Jamshidi has been a great support and Graham and Adam on the maintenance team were brilliant, lending a hand where they could.
Brunel Manor
Brunel Manor is one of our great accommodation providers but pulled out all the stops this month when they welcomed 8 families in the same week! Impressive, we think you'll agree. The families had all been referred by Alstrom Syndrome UK who had a family activities week in Paignton this month. What a gift to be able to give all these families the chance to come to Devon, enjoy a holiday and be part of a very special week.
Winners 2000
The staff at Winners 2000 are some of our biggest supporters and there's currently all sorts of goings on planned.
The first thing we need to tell you about is Mark Mallen's 12 hour cycling challenge on Thursday 5 September. Mark is a Spinning Instructor and will be setting up outside the Winners 2000 gym in Torquay with his bike on rollers (tricky!) and two ordinary spinning bikes. Mark will ride his bike for 12 hours (with a five minute break each hour) and he's hoping that others will come and cycle alongside him throughout the day to keep him company and provide encouragement. Mark also wants people to guess how he's doing. How far will he ride? How many calories will he burn? How fast will he go? So, if you're free, come along on the day, have a guess at £2 a go and show Mark how much we appreciate his hard work.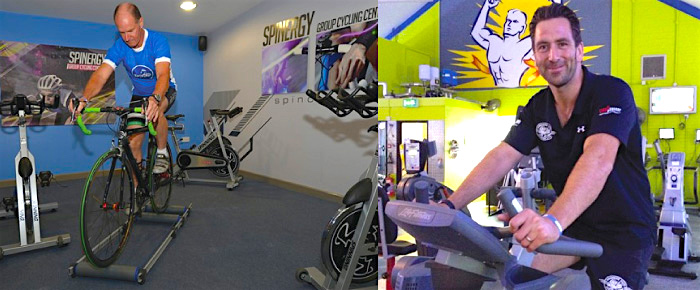 Glen Bevan, another Winners member of staff, is also planning a challenge. How does cycling 25 kilometres and then running 5 kilometres sound? What about, if, once you had done that you did it again and again and again for 24 hours? This is what Glen plans to do on Sunday 22 December at the gym in Torquay, all to raise money for the THHN – incredible. We'll keep you up to date with his plans as we get nearer to the big day but, for now, Glen is very busy in training for this. He has set up a sponsorship page at www.justgiving.com/Glen-Bevan so if you would like to support him we know he'd be delighted.
As well as all of that, Winners 2000 are planning a special Taster Sessions Open Day at their Paignton gym on Saturday 5 October. It's an opportunity to try out a session at any of the Winners 2000 classes. There's a fee of just £5 per session or pay £20 and stay all day.
Business Sponsorship
You can help – We are currently looking for businesses who may be interested in some sponsorship packages we are looking to fill. We are seeking sponsorship to cover the annual site fees for our Memory Maker caravan, sited at Finlake Holiday Park, we have lots we can offer in return in the form of marketing and publicity. We are also looking for a company to sponsor t-shirts for our runners who raise funds for us, we can offer the whole back of the t-shirts for advertising space in return. if you may be potentially interested and would like more details please email luke@thhn.co.uk or call 01803 325152.
DIARY DATES
Sunday 15 September – Agatha Christie Fête
We'll have a stall down on Torquay Marina as part of this lovely event. With music and loads to see pop along and say hello to us.
Sunday 15 September – Oddicombe Hill Climb
A new, fun event organised by the local police. Run as an individual or as a team of five people from the bottom of the hill to the top – simple! Registration is £5 per person and there will be lots of other entertainment going on as well. Another innovative fundraising idea for the THHN. For more info call Maria on 07703 886019.
Saturday 5 October – Winners 2000 Paignton Open Day as above.
October 13 – Great West Run.
If you're interested in running in the Great West Run in Exeter to raise funds for the THHN please get in touch and we'll give you all the help you need. Simply e-mail fundraising@thhn.co.uk
Saturday 2 November – Art Day
Haddon Galleries are hosting an Art Day with an art auction and raffle of artwork in the evening. Should be a great day so make a note.
SPECIAL THANKS TO:
Jon and Kelly Harper of Pole Position Training who worked so hard to put on a wonderful Sinatra Cruise down the River Dart which was a lovely evening – the raffle alone raised £343.
Brunel Manor who welcomed a family referred by North Devon Lifetime Services, Alstom Syndrome UK and Rainbow Trust Children's Charity. The Hotel De La Mer who accommodated a family referred from CCLASP.
Buckfast Abbey self catering who provided fun packed holidays for families referred from Victim Support and ICSSG. The Anchorage Hotel who gave a warm welcome to a family referred by the charity CCLASP
The Marine Hotel who gave a holiday to a familes referred by Great Ormond Street Children's Hospital and the Cornish branch of CLIC Sargent.
The Ashley Court Hotel who accommodated a family referred by North Devon Palliative Care Team.
Everyone in the Torquay Fire Station's Blue Watch who presented Luke with a cheque for £2100, money they raised by making street collections around Torbay and completing a sponsored hike around the Cotswolds – fantastic, thank you very much.
Our friends at Haddon Galleries helped by getting in touch with Laura Wall who donated a signed set of her children's books which now have pride of place in our caravan and which we're sure the children will enjoy reading. Not only did Laura sign them she also added some extra illustration inside each book – lovely.
D&H Fisheries, Save on Meats, Hallets the Bakers, Luscombes Butchers of Totnes, Total Produce Devon, Riverford Torbay and South Hams Delivery for all their delicious goodies which make up our hampers.
Angela Bunce for organising all our wonderful hamper deliveries and some of our holidays.
Maria Holmes and James Milton for organising the Oddicombe Hill Climb which should be a great event.
Jake Thorn, General Manager at Hanbury's, and everyone else who is running the Great West Run for us in October.
DID YOU KNOW?
We provided more holidays this month than any month before – ever. It's been a beautiful summer and we are delighted to have helped more people enjoy it with us on the stunning English Riviera.
AT-A-GLANCE DIARY
Comments